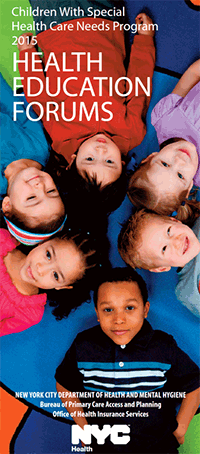 CSHCN conducts a series of Health Education Forums lead by experts in the field on topics of interest for parents, caregivers and providers.
Community Partners
CSHCN partners with Community Based Organizations and the Faith Community to meet the complex needs of our families with children with special needs. Some of our partners are listed below, they are experts in the field and assist families in accessing services for children with special needs .
Family Support:
Early Childhood Direction Center
Manhattan Parent Center Without Walls
Resources For Children With Special Needs
Medical and Health:
Foundation: Leukemia Association
Home Care Services:
Advocacy Sservice: Children's Defense Fund
Financial Support: United Healthcare Children's Foundation
Goverment Services:
Office for People with Developmental Disabilities (OPWDD)
Social Security Administration (SSA)
► Learn about Health Insurance and Benefits for Your Child in Early Intervention (PDF)
Other languages: [Español]
For more information , call 311 and ask for Children with Special Health Care Needs Program.