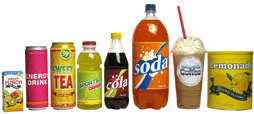 Americans today consume 200 to 300 more calories daily than 30 years ago. Nearly half of these extra calories come from sugary drinks and can lead to obesity, diabetes and other chronic diseases. With every additional sugary beverage a child drinks daily, his/her chance of becoming obese increases by 60%.

Most people don't realize how easy it is to gain weight from drinking sugary sodas, juice drinks, sport drinks and sweetened tea and coffee drinks. Just one 20-ounce bottle of soda can pack 250 calories and the equivalent of more than 16 teaspoons of added sugars. Is the lemon-flavored iced tea any better? Not by much – with 210 calories and the equivalent of 14½ teaspoons of added sugars. Sugar-sweetened beverages add hundreds of calories to your diet each day.

Here are some tips to avoid sugary drinks:
Drink plenty of water. Try NYC's own high quality water (PDF) and save both money and calories.


Choose fat-free milk.


Switch from drinking juice to eating whole fruit.


Skip sports drinks and energy drinks. Water is all you need.


Watch out for pre-sweetened coffee and tea drinks, and shakes.


Downsize and choose the smaller size.
Resources
Maximum Size for Sugary Drinks Proposal
The NYC Health Department has proposed an amendment to Article 81 of the Health Code to establish a maximum size for sugary drinks at food service establishments (FSEs): Sugary drinks shall not be offered or sold in cups or containers that can contain more than 16 fluid ounces.