Why Organize Healthy Food and Non-Food Fundraisers in Schools?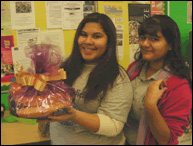 National rates of childhood obesity have tripled in the last few decades, putting youth at risk for developing many chronic diseases such as diabetes. With nearly 40% of New York public school students in grades K-12 being overweight or obese, improving school food has become a focus for many citywide efforts.
Recent initiatives include offering healthier items in school vending machines and cafeterias. It is important that school fundraisers set a good example as well.
Healthy food and non-food fundraisers:
Send clear and consistent health messages



Help support changes to the school environment by limiting the availability of high-fat/high-sugar foods



Help schools make money
Healthy Fundraiser Ideas
Sell produce (holiday baskets, Parent-Teacher Conference sale, concession stand, etc.)
Sell school logo gear (reusable water bottles, clothing, mugs)
Hold a sports event or tournament
Have a walk-a-thon or dance-a-thon, bike-a-thon, hula-hoop-a-thon, etc.
Open a school store with non-food items
Have a holiday flower or plant sale (Valentines Day, Mother's Day, etc.)
Hold an annual appeal with the school community and
local businesses


Many schools across the city and the nation are successfully offering healthy food and non-food fundraisers. See USDA Making it Happen: School Nutrition Success Stories. (PDF)
Fundraiser Resource Materials
Program Background
Between July 2010 and March 2012, the Healthy High Schools Initiative worked with high schools to promote healthy food and non-food fundraisers instead of food fundraisers high in fat and sugar (e.g., candy and bake sales).
Outreach was provided in a variety of ways. Outreach to all schools included community presentations, webinars, professional development days as well as the first ever NYC School Fundraising Expo on December 7th, 2011 where schools showcased healthy fundraisers they had done. Fifty high schools from all 5 boroughs of the city received technical assistance in the form of workshops, meeting facilitation and follow up support. Eighteen schools were awarded $1,000 mini-grants to propose and implement creative semester-long campaigns to improve the food environment in their school. Produce fundraisers were promoted through a partnership with GrowNYC in which 20 schools sold local produce or pumpkins for a school fundraiser.
The Healthy High Schools Initiative received funding from the Communities Putting Prevention to Work grant.
More Helpful Resources
Last Updated: June 6, 2012