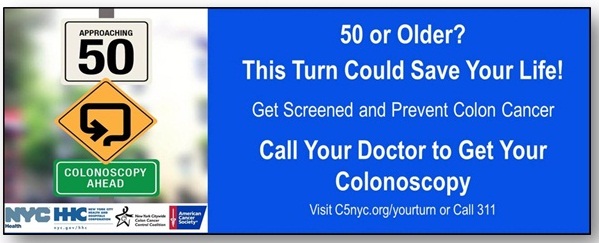 March is National Colon Cancer Awareness Month. The NYC Department of Health and Mental Hygiene is partnering with the Citywide Colon Cancer Control Coalition (C5), NYC Health and Hospitals Corporation and the American Cancer Society to urge all New Yorkers age 50 or older to get screened for this highly preventable disease. Please visit c5nyc.org for more information on colon cancer and where you can go to get screened.
What is Colon Cancer?
Colorectal cancer (also called colon cancer) is cancer that occurs in the colon or rectum. As the drawing shows, the colon is the large intestine or large bowel. The rectum is the passageway that connects the colon to the anus.Colorectal cancer affects men and women of all racial and ethnic groups, and is most often found in people aged 50 years or older. In the United States, it is the third most common cancer for men and women.
Colon Cancer: The Facts
Colorectal cancer—cancer of the colon or rectum—is the second leading cause of cancer-related deaths in the United States.
In 2007, 53,219 people in the United States died of colorectal cancer (27,004 men and 26,215 women).
Screening for colorectal cancer (usually a colonoscopy) helps prevent this disease. Screening can find precancerous polyps (abnormal growths), so they can be removed before they turn into cancer. Screening also finds colorectal cancer early, when treatment works best.
Risk Factors
Being 50 or older. More than 90% of colon cancers occur in this age group.
Having a personal or family history of colon cancer.
Smoking
Being overweight or obese.
Reduce Your Risk
If you are over 50 or have a family history of colon cancer, have a colonoscopy.
If you are a smoker, take steps to quit smoking.
Maintain a healthy weight and eat nutritious foods. (See Eating Healthy)
Exercise regularly. (see Shape Up NYC)
Colonoscopy
A colonoscopy detects more than 95% of early colon cancer and is the only test that can also prevent cancer. This is because the doctor can remove polyps – small growths that may develop into cancer if left alone – before they turn into cancer.A colonoscopy is safe and usually painless and takes about 30 minutes. A colonoscopy is usually needed only once every 10 years if test results. Call 311 to find out where to get a colonoscopy.

► Learn more about colonoscopies.
Resources