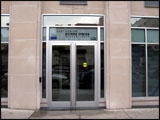 The East Harlem Asthma Center of Excellence (EHACE) was established to address the high rate of asthma hospitalizations among East Harlem's children. EHACE provides an array of services to children with persistent asthma.

What Services Does the Asthma Center Offer?
The Center staff meets with you and assess your child's asthma-related needs



If your child's asthma is poorly controlled, you will be assigned an asthma counselor to work with you until your child's asthma is well controlled.



The Center will help you learn:


How to recognize your child's asthma symptoms and triggers
How to follow an asthma action plan
How to give your child asthma medications and how to use a spacer and peak flow meter



The Center runs support groups where you can talk about the challenges you face in caring for
your child.
How can I get in touch with the Asthma Center?
You can visit the East Harlem Asthma Center at

161-169 Est 110 Street
(bet. Third & Lexington Aves.)

Hours: Mondays - Fridays, 9 am to 5 pm

Phone: 888-247-8811
► Learn more about the East Harlem Center of Excellence
► Learn more about asthma