These resources are intended for New York City health care providers who provide services for adolescents, including primary care, family medicine, pediatrics, adolescent health, family planning, and obstetrics and gynecology.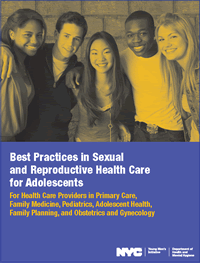 Best Practices in Sexual and Reproductive Health Care for Adolescents reflect current evidence, guidelines, and input from many experts in the field. They have been endorsed by: the New York State Department of Health; the New York City Health and Hospitals Corporation; the American Academy of Pediatrics, District II, NYS; the Academy of Family Physicians, NY County, NYS; and the Society for Adolescent Health and Medicine, NYS. The online version contains links to useful resources to assist in implementation of best practices. Download a printer-friendly version (PDF) of the best practices.
Teens in NYC Web-Based Portal
This portal allows you to:
Assess your performance relative to the Best Practices
Inform your quality improvement work
Receive updates on resources and trainings for NYC providers
Become eligible for inclusion in the Teens in NYC Referral Guide
To join the portal, email: TeenClinicRegistration@health.nyc.gov
Teens in NYC Referral Guide
The Teens in NYC Referral Guide lists heath care providers in all five boroughs that provide sexual and reproductive health services for adolescents.
Practices listed with a gold star ★ also:
Offer services regardless of teens' ability to pay,
Dispense birth control on-site, and
Provide for confidentiality in registration and billing processes as necessary
There are various ways to access the Teens in NYC guide:
Announcements
July 2013
Association of Reproductive Health Professionals is hosting their 50th annual meeting in Denver, Colorado this September. Program includes incorporating male health services and clinical training on insertion and removal of Nexplanon. Registration is now open.
June 2013
The Centers for Disease Control and Prevention recently issued new evidence-based guidance to assist health care providers in offering the most appropriate family planning method for individual patients. Visit CDC's Reproductive Health page for more information.
May 2013
The Centers for Disease Control and Prevention recently published their new webpage on teen-friendly reproductive health services. Page also includes an infographic illustrating the steps of a teen-friendly reproductive health visit. Visit CDC's page for health care providers for this and other relevant information.
January 2013
New Option in Long-acting Reversible Contraceptives: The FDA has approved Sklya, a new low-dose levonorgestrel-releasing intrauterine device from Bayer HealthCare to prevent pregnancy for up to three years. Skyla is the first new IUD to win FDA approval in more than 10 years. Read statement from FDA.
September 2012
The Intrauterine Device (IUD) for Emergency Contraception: The International Consortium for Emergency Contraception (ICEC) has prepared a statement about the use of the IUD for emergency contraception. A systematic review of IUDs used as emergency contraception among 7,034 women found a pregnancy rate of less than 0.1%. For more information, see the ICEC Emergency Contraception Statement (PDF).
August 2012
Revised Gonorrhea Treatment Recommendations: CDC no longer recommends oral cephalosporins as treatment for gonococcal infections. Updates to the 2010 treatment guidelines recommend combination therapy with ceftriaxone 250 mg intramuscularly and either azithromycin 1 g orally as a single dose or doxycycline 100 mg orally twice daily for 7 days as the most effective treatment for uncomplicated gonorrhea and to ensure treatment of co-occurring pathogens (e.g., Chlamydia trachomatis); for more information, see MMWR article.