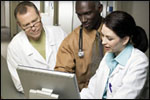 The Primary Care Information Project (PCIP) seeks to improve population health through health information technology and data exchange. The program supports the adoption and use of Electronic Health Records (EHRs) among primary care providers in New York City's underserved communities and area specialists through a wide-range of services. Learn more about PCIP.

With PCIP, you can :

PCIP wins first place in the 2012 Healthcare Informatics Innovator Awards Program. Read about this as well as other news about PCIP.

To learn more about PCIP, sign up for our monthly newsletter, or ask questions about EHR adoption, please
e-mail us at pcip@health.nyc.gov or at 347-396-4888.