Overview | What is a Regional Health Information Organization (RHIO) | What Information is Exchanged | Benefit to your Practice | Eligibility and Membership | RHIO Contact Information     
What is Health Information Exchange?
Currently, Health Information Exchange connectivity is only available for eClinicalWorks users. We hope to expand connectivity with other EHR vendors. Please check back for more information.
In partnership with three of the four New York City Regional Health Information Organizations (RHIOs) (Bronx RHIO, Brooklyn Health Information Exchange [BHIX] and Interboro RHIO), eClinicalWorks has developed a bi-directional exchange of clinical information between health care organizations in order to improve care. The goal of this exchange is to reduce medical errors, redundant tests, and improve care coordination by sharing health care records of a patient as they move through various healthcare settings in NYC.
Click image for larger display
By connecting to a RHIO, practices are able to share their patient's history with other health care providers as patients move across health care settings. In addition, with patient consent, a practice can retrieve consolidated health histories on patients from a RHIO, which includes clinical data from multiple data sources in the region (e.g. hospital, home health care agencies, labs). Practices can request and receive this information directly with the eClinicalWorks EMR.
Practices must be a member of a RHIO to participate and patients must give consent to share their data.
What is a Regional Health Information Organization (RHIO)?
Regional Health Information Organizations (RHIOs) are non-governmental, not-for-profit organizations that enable interoperable health information exchange in New York. The RHIOs build interfaces with healthcare organizations in their community to either collect or register clinical information at a patient level and help exchange their data with other providers in the community. In addition, they are responsible for governing health information exchange (HIE) and quality and population health reporting in a defined geographical area for the purpose of improving health and care in that community. The end goal of this exchange is to provide safer, more efficient and effective patient-centered care.
What Information is Exchanged?
Health Information Exchange through a RHIO allows healthcare organizations to exchange clinical data using Continuity of Care documents (CCDs). CCDs are patient clinical summary documents and include information such as labs, medications, problem lists, allergies, immunization, and vitals.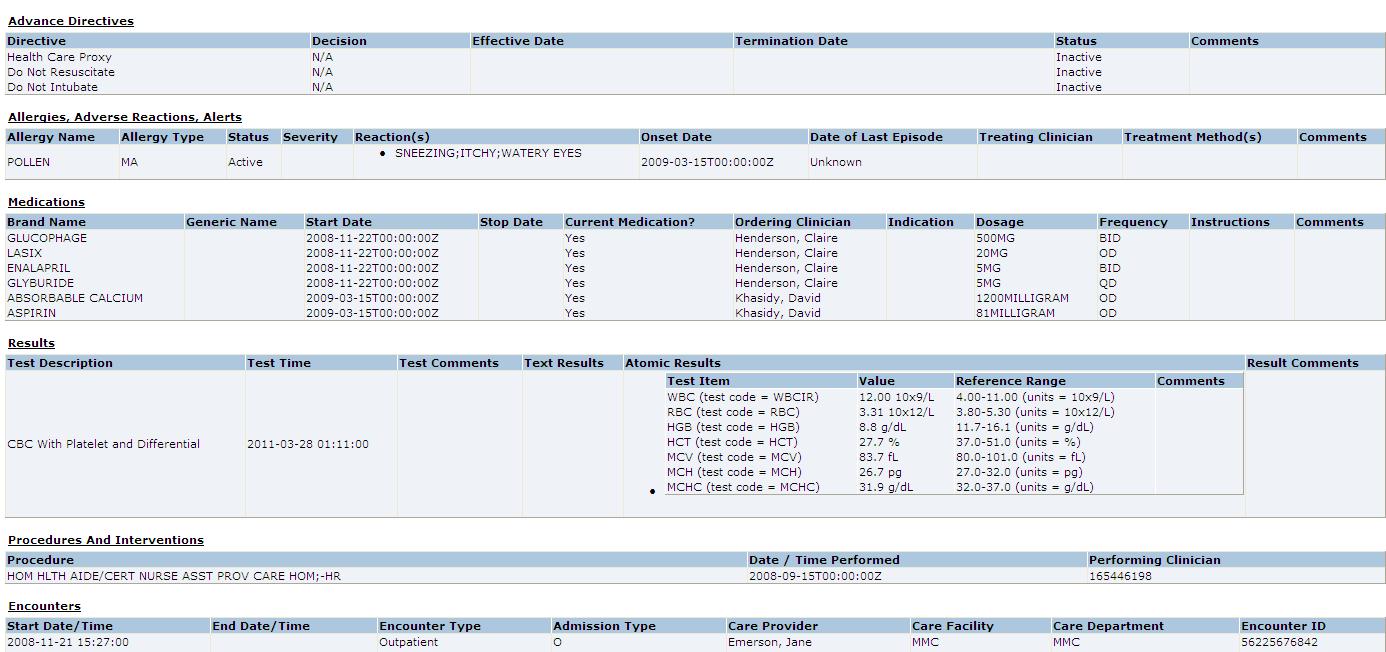 Click image for larger display
Sample Continuity of Care (CCD) document displayed in eCW
Once your practice is set up to exchange data through a RHIO, you can:
Record patient consent to access data from the RHIO (required by NY State policy).
Request and view data from other health care facilities connected to the RHIO directly from your eClincalWorks EMR.
Share your clinical data (locked progress notes and labs) with the RHIO to make available to other clinicians.
Is the Exchange of Information Secure?
All data is transmitted and stored using secure internet protocols and is HIPPA compliant.
Benefit to Your Practice
Participating in Health Information Exchange can benefit your practice in many ways:
Meaningful Use: By exchanging data through a RHIO, providers can achieve Stage 1 Meaningful Use objectives by implementing the capability to electronically exchange key clinical information (e.g. problem list, medication list, medication allergies, and diagnostic test results) among providers through a RHIO.
Improve Care Coordination: As your patients move between health care settings, exchanging data through a RHIO helps you share records with other providers.
Fewer Medical Errors: Exchanging data through a RHIO provides you and other clinicians with a more complete health history of a patient thereby reducing the risk of mistakes due to incomplete records.
Improved Patient Experience: Health information exchange through a RHIO provides you and other clinicians with a more complete medical history resulting in few repeated tests and improved patient experience.
Eligibility and Membership Information
In order to participate in Health Information Exchange through a RHIO, your practice must 1) join one of the three participating RHIOs in New York City and 2) schedule eClinicalWorks eHX activation for your practice, 3) begin exchanging data   
Step 1: Join a RHIO
Select a RHIO. Consider the following when selecting a RHIO:

What are the organizations that share data with the RHIO and are they the same organizations my patients go to for care?
What tools do the RHIOs provide to help me effectively use their clinical data?

Complete a participation agreement with the RHIO
Although RHIOs are not-for-profit organizations, membership fees are charged to cover the cost of providing services. Some RHIOS may provide financial assistance; contact the RHIOs directly for more information.
Practices that signed up with PCIP through the Interboro RHIO have already paid Interboro membership dues.
Step 2: Activate eClinicalWorks eHX
Sign an addendum1 with eClinicalWorks to activate eHX2
Complete a RHIO Connectivity Initiation form1
If you haven't already, upgrade to eCW version 9.0 and have the health information exchange functionality enabled on your EMR
1Available from your eCW SAM, PCIP/REACH staff or the RHIO
2 eHX is a per provider license offered by eClinicalWorks.   PCIP has negotiated a limited number of free eHX licenses on behalf of our providers through March 31, 2012. Contact your eCW Strategic Account Manager or PCIP/NYC REACH staff to learn more.
Step 3: Exchange Data
Collect patient consent
Begin accessing data from other health care facilities connected to the RHIO
Begin sharing your clinical data with clinicians who see your patients at other facilities
Contact Information for the New York City RHIOs

Bronx RHIO
Phone: 718-708-6631
E-mail: cscaglio@bronxrhio.org
www.bronxrhio.org 
 
Brooklyn Health Information Exchange (BHIX)
Phone: 718-283-5650
Email: info@bhix.org
www.bhix.org
 
Interboro RHIO
Phone: 718-334-5844
Email: info@interbororhio.org
www.interbororhio.org