How it Works and Eligibility | What is Meaningful Use | How to Prepare
On February 13th, 2009, the U.S. Congress passed the American Recovery and Reinvestment Act (also known as the "Stimulus Bill), sending hundreds of billions of dollars of federal funding to lift our economy. A central component of the bill is over $30 billion in rewards for American doctors to bring electronic health records into their practices and use them to improve the health of their patients. As President Obama signed the bill into law, he declared it to be, "the most meaningful step in years towards modernizing our health care system." On January 3, 2011, registration opened for Medicare and Medicaid Meaningful Use incentives.
How do these rewards work? Who is eligible?
The American Recovery and Reinvestment Act, "the stimulus bill," provides payments through Medicaid and Medicare to physicians that demonstrate "Meaningful EHR Use" (see below).
Medicare: Physicians are eligible for payments equal to 75 percent of your allowed Medicare charges in a given year, up to $44,000, with payments starting in 2011
Medicaid: Office-based physicians whose patient mix includes at least 30 percent Medicaid beneficiaries (either managed care or fee-for-service) are eligible for up to $63,750
Providers may receive either Medicare or Medicaid Meaningful Use payments, but not both
On the other hand, the Act has Medicare penalties. By 2015, physicians who have not achieved Meaningful EHR use will see their Medicare fee schedule amount reduced by 1% in 2015, by 2% in 2016, by 3% for 2017 and by between 3-5% in subsequent years.
Meaningful Use Medicare Incentives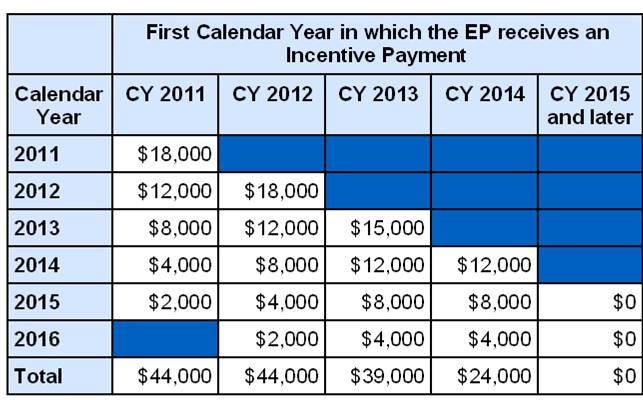 Meaningful Use Medicaid Incentives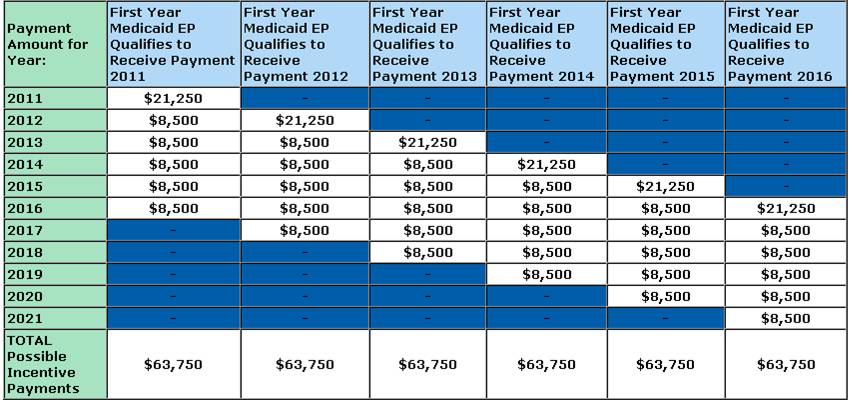 But What Is Meaningful EHR Use?
Eligible providers must meet about 25 measures to prove that they use their EHRs to improve health in five areas:
Improve quality, safety, efficiency, and reduce health disparities
Engage patients and their families
Improve care coordination
Ensure adequate privacy and security protections for personal health information
Improve population and public health
For more details and up-to-date information on the exact measures, visit the NYC REACH Meaningful Use Page.
How should you prepare?
By working with PCIP, you are already conquering the biggest hurdle to achieving Meaningful EHR Use - implementing an EHR. Now, PCIP will help you get the rest of the way through NYC REACH. NYC REACH is the only federally designated resource for New York City providers.
By joining NYC REACH, you'll have access to classes, toolkits, special events and a provider network that can all help you achieve Meaningful Use of your EHR.