Each year, young children are injured or die in falls from unguarded windows. The NYC Health Code requires owners of buildings of 3 or more apartments to provide and properly install approved window guards on all windows in an apartment where a child (or children) 10 years of age or younger reside and in each hallway window.
Who Can Request Window Guards
Anyone in a building coverd by the law can request window guards, even if there are no children living with you. For instance:

you have friends or family with young children who visit
you sometimes babysit for children in your apartment
you have grandchildren visiting
you have older relatives who might accidentally fall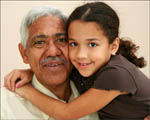 If tenants or occupants want window guards for any reason, even if there are no resident children in the covered age category, they should request them in writing and they may not be refused.
Help Getting Window Guards
If your landlord refuses to install window guards or if they are not properly installed, call 311.
Window Guard Basics
Information for Landlords
Required Forms