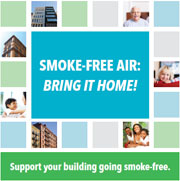 Managers and residents of multifamily buildings across the country are discovering the benefits of smoke-free housing.

A 100% smoke-free building is one where smoking tobacco products is prohibited anywhere on the premises, including within individual apartments and common indoor and outdoor areas, or a building where smoking is restricted to a limited outdoor area.


What are the benefits of smoke-free housing?
Everyone benefits from smoke-free housing:

Owners see reductions in property damage and turnover costs, and the potential for insurance savings by decreasing the likelihood of a fire.
Residents enjoy breathing cleaner, healthier air in their homes and in common areas such as hallways, lobbies and stairwells.
Are there buildings in NYC that are smoke-free?
The first residential buildings in New York to adopt 100%
no-smoking rules have opened their doors, and many more residences are considering adoption of this policy. A recent 2012 poll of New York City voters found that nearly 60% want to live in a place that is smoke-free. The organization Smoke Free Housing NY lists housing that is smoke-free.


Do other cities have smoke-free housing?
Smoke-free housing is popular in major cities like Los Angeles, Boston, Chicago, Detroit, Minneapolis and Seattle, where tens of thousands of apartment units have gone smoke-free.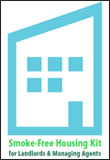 How can I help my building go smoke-free?
The Smoke-Free Housing Kit for Landlords and Managing Agents describes the benefits of going smoke-free and the recommended steps for developing and implementing a new smoke-free rule. It also contains materials for educating residents, which is one of the best ways to achieve compliance.


Kit Components
Additional Materials
For questions about smoke free housing,
contact SmokeFree.Housing@health.nyc.gov.

To order a copy of the kit or to receive additional materials, call 311.
More Resources