What are Cockroaches?
Cockroaches are six-legged insects that are common pests in New York City homes. They have two pairs of wings: leathery outer wings and membranous inner wings. Four types of cockroaches are commonly found in New York:
Where are cockroaches found?
Cockroaches live in groups and are attracted to humidity, warmth and darkness, and are common in bathrooms, kitchens, dining rooms and sometimes bedrooms. Cockroaches secrete a pheromone (an attractant chemical) in their feces, which attracts other cockroaches. Cockroaches dislike light and hide as soon as a light is turned on in a dark room. This habit can be used to find their hiding places. Egg cases (Oothecae) of some species of cockroaches can be found cemented to and/or dropped inside kitchen cabinets, behind refrigerators, and under or behind stoves. Though not all types of cockroaches drop their egg cases, empty shells of egg cases are an indicator of their presence.
What do cockroaches feed on?
Cockroaches feed on a wide variety of food (grease, crumbs, pet food, wax, gum, left over food in empty food cans etc.). They also eat paper if it has glue on it, and some will feed on soap bars. Cockroaches can withstand long periods of starvation and can live for many days without water.
Do cockroaches transmit disease?
Cockroaches are scavengers. While walking on spoiled food in garbage containers, they pick up various bacterial organisms on their legs that they can later deposit on uncovered food. Cockroaches themselves are not implicated in the transmission of any diseases. However, many disease-causing organisms can grow and multiply in their guts and can then be deposited on silverware, plates etc. during defecation. For example, cockroaches can pick up disease-causing bacteria like Salmonella on their legs and later deposit them on foods and cause food poisoning. People continuously exposed to dust containing cockroach feces and crushed body parts become sensitized and may show allergic reaction and asthma after repeated exposure to such dust.
What kinds of cockroaches are found in New York and what are their life cycles?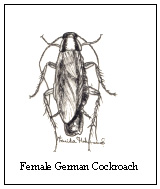 German cockroaches are brown and have two dark brown lines on the sides of their anterior shield. Winged adults are about ½" in length. Wingless immature German cockroaches are much smaller and variable in size. Females produce egg cases (oothecae) that look like beans or brown capsules. Each egg case contains 30-40 eggs. The female carries the egg case in her body and it partially protrudes from her posterior end. Females carry their egg cases in this manner for three weeks, after which they drop them in hidden, protected areas one day before the eggs hatch. Young (nymphs) molt six to seven times before becoming adults. It takes them about 45-60 days from egg hatching to become adults. Adults emerge fully-winged and are ready to mate and develop eggs. Females lays four to eight egg capsules in their lifetimes and mother at least 240-300 young cockroaches.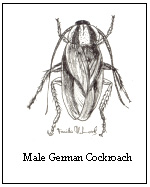 Brown-banded cockroaches are larger than German cockroaches (slightly longer than 1/2") and have a light-colored band at the front of their wings. Males are light brown and longer than the oval-shaped, dark brown females. They eat almost anything and spend most of the day hiding in crevices and cracks and come out at night to feed.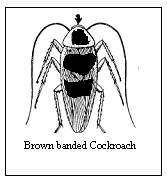 Females do not carry their egg cases (13-18 eggs/egg case) in their bodies. Instead, they glue them in areas that are high (eye level), as well as under furniture, drawers, dining tables and wall voids, etc. Females live for about six months and lay 13-14 egg cases. At room temperature, eggs hatch after 50 days and young cockroaches (nymphs) molt six to eight times. Their growth is slow and development from egg-hatching to adult takes five to six months. They require less water for their survival than German cockroaches. Brown-banded cockroaches are also good flyers.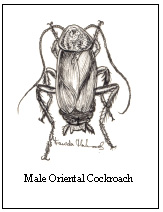 Oriental cockroaches are about 1" in length. Females are oval-shaped, black and wingless, whereas the males are lighter in color and winged. The males are also thinner with wings that extend to the middle of their bodies. During winter, they are mostly found inside homes, especially in basements and crawl spaces for warmth. In summer, some of them move outside to sewers and also invade homes. Oriental cockroaches are the most common indoor pest in the northern states of the United States.
Female oriental cockroaches produce smaller number of young than the German or the brown-banded cockroaches. They produce one to eight egg cases in a season, depending on environmental factors. In cold regions, females may deposit one egg case per season. Each egg case contains 16 eggs. Females place their egg cases in areas with plenty of food and the nymphs emerge after two months. This species is most active from spring to midsummer.
American Cockroaches are about 2" long, the largest of the four species found in New York City. They are reddish-brown with a yellow figure eight marking in front. They lay egg cases containing approximately 14 eggs and hide them in cracks or crevices. Nymphs emerge one to two months after the eggs are laid. After hatching, they undergo 13 molts over the duration of 6-12 months before becoming adults. Females can produce an egg case in about one week. Therefore, from 12-24 cases are produced in the warm months (June to August). Adults commonly live more than one year, which gives these cockroaches a life span of nearly two years. They can be found in areas where foods are prepared or stored. They prefer areas with high temperature and humidity, such as boiler rooms, near pipes and water heaters in basements, and outside in sewers and crawl spaces. This species is especially attracted to fermented foods and beer.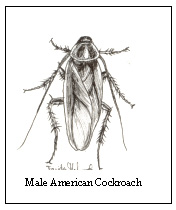 How can I control cockroach infestation in my home?
The key to prevent cockroach infestation indoors is sanitation both in and around the house. Empty garbage daily and keep the lid tightly closed at all times. Do not accumulate empty soda cans, beer bottles, food cans and especially not in brown paper bags and cardboard boxes inside the house. Tape openings around pipes under the kitchen and bathroom sinks to prevent infestation from neighboring apartments. To prevent the entrance of cockroaches into homes: eliminate potential habitat areas outside the houses; seal cracks; and install screens on vents, windows and doors.

Cockroach baits are a safe way to control roach infestation inside the home. Place cockroach baits under the refrigerator, behind and under the stove, and in the basement. Baits contain slow-acting poison that kills the cockroaches that eat it. A poisoned cockroach then usually salivates or defecates in the nest area, depositing poison that can kill other cockroaches.

Boric acid is used to control cockroaches, but its proper placement and use is essential to ensure its effectiveness. It can be purchased as boric acid insecticide formulations from hardware and grocery stores. The insecticide formulation packaged in plastic, squeezable bottles with narrow nozzles is the safest and easiest to use. Boric acid should be applied as a very thin layer of powder that the cockroaches cannot distinguish from dust. Apply it under and behind refrigerators, stoves, dishwashers, washing machines, cabinets, areas where plumbing pipes enter the floor, under sinks, etc. Do not apply it in areas where you prepare and/or store foods. Boric acid is a poison, so you should always store and apply it properly, especially if you have young children. In such situations, it may be better for you to use a licensed exterminator for cockroach control.
More Resources
Illustration of brown-banded cockroaches courtesy of Centers for Disease Control