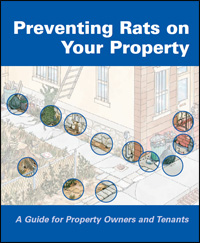 How the New York City Health Department Enforces Rat Regulations
The Health Department receives rat complaints from the public, elected officials, community groups and government agencies. Complaints are assigned to a regional office for inspection.

DOHMH inspectors note signs of rat activity and conditions that encourage rats to seek shelter on the property. If rats are found, the owner of the property is issued an commissioner's order to abate (COTA), an inspection report detailing the inspector's findings and a guide on how to fix the problems.

► Download the guide Preventing Rats on Your Property (PDF)
Other languages: Español 中文




How to Read an Inspection Report
If you a receive Commissioner's Order, you should carefully review the inspection report that is attached. This report explains where signs of rats were observed on your property and how to improve conditions. If you have a pest control professional working for you, show them the report and discuss how to correct conditions.
Five Days Allowed to Correct the Conditions
You have five to ten days to correct conditions, after which the Health Department will conduct a second follow-up inspection to check for compliance. If the conditions have not been corrected, you will receive a compliance inspection report and a Notice of Violation.
ECB Judges now hear the Department of Health's Pest Control Cases
Notices of Violations (NOV) for Pest Control are now being heard by judges at the Environmental Control Board (ECB). Previously, these tickets were handled by the Department of Health's Administrative Tribunal. The Department of Health is still the agency responsible for issuing these tickets to NYC residents, but recipients of these tickets will now receive a fair and impartial hearing at ECB. ECB is an independent court that does not issue tickets or conduct inspections and it is not affiliated with the City Agencies that issue these tickets. ECB judges currently hear cases brought by 12 different City Agencies pertaining to laws which keep NYC clean, safe and healthy. Please click the following link for more information: Environmental Control Board website.
Violations That Are Not Dismissed Can Lead to a Fine
If the violations are not dismissed at the hearing, you will be fined. Fines begin at $300 and can be as high as $2,000. Additionally, the Health Department may apply bait to your property and perform any clean up that is necessary and then send you the bill. You may be billed up to $1,000 a day for this work. Property owners that fail to pay fees or fines will eventually have a lien placed against their property.