Information and Resources
For Your Health

Information for:
Health Department:




Children and pets often find plants appealing and may eat the leaves. Some plants are completely safe but some are poisonous if swallowed.

What symptoms can occur if a poisonous plant is swallowed?

Symptoms range from mild stomachache, skin rash, or swelling of the mouth and throat and progress to cause damage to organs. Check with the poison control center or a local florist to make sure the plants in your home are safe.

National Toll-Free Number for Poison Centers
1-800-222-1222  (call 24 hrs. day/7 days week)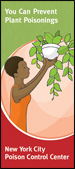 What can I do to prevent plant poisonings?
Keep plants up high and out of reach.
Label all plants by name.
Check with the poison control center or local florist before buying plants.
Never eat wild mushrooms, berries or plants from the outdoors.
Never chew on jewelry made from beans or seeds.
Keep the poison control center telephone number:
(1-800-222-1222) on all telephones.
Call the poison control center after any plant exposure.
► See You Can Prevent Plant Poisonings (PDF)
Other languages: [Español][中文] [Русский] [Haitian-Creole]


► See the ASPCA's guide, with pictures, to plants
which are toxic to cats and dogs.
Which plants are poisonous to people?
Anemone
Angel Trumpet Tree
Apricot Kernels
Arrowhead
Azaleas
Betel Nut Palm
Bittersweet
Buckeye
Buttercups
Caladium
Calla Lily
Castor Bean
Cherries-Wild
Crocus, Autumn
Daffodil
Daphne
Delphinium
Devil's Ivy
Dieffenbachia (Dumb Cane)
Elderberry
Elephant Ear
English Ivy
Four O'clock
Foxglove
Holly Berries
Horsetail Reed
Hyacinth
Hydrangea
Iris
Ivy
Jack In The Pulpit
Jequirity Bean Or Pea
Jerusalem Cherry
Jessamine
Jimson Weed
Jonquil
Lantana Camara
Larkspur
Laurels
Lily Of The Valley
Lobelia
Mayapple
Mistletoe
Moonseed
Monkshood
Morning Glory
Mother In Law
Mushrooms
Narcissus
Nightshade
Oleander
Periwinkle
Peyote
Philodendron
Poison Hemlock
Poison Oak
Poppy
Pokeweed
Potato Sprouts
Primrose
Ranunculus
Rhododendron
Rhubarb Leaves
Rosary Pea
Tobacco
Tomato Vines
Tulip
Water Hemlock
Wisteria
Yew
Last Updated: December 6, 2011