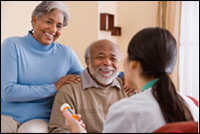 Many adults have trouble reading and understanding information they might need, such as health or safety related topics. The NYC Poison Control Center has developed brochures that are easier to read, both in English as well as several other languages. Each brochure provides simple information about the following topics:
Learning About Your Medicine
Medicine Safety
Your Over-the-Counter Medicine
Your Prescription Medicine
Vitamins, Herbals, and Minerals
Your Medical Appointment
► You can download copies of the brochures in PDF format:
[ English, Spanish, Russian, Chinese, Haitian Creole, Bengali ]
Resources for Health Literacy Teachers
The HELP Instructors's Guide provides lessons and activities to teach adult learners about medicine safety and the Poison Control Center.

The HELP Instructor's Guide was designed to provide information in the adult education setting through a series of lessons focused on medicine safety. Each lesson uses the corresponding brochure as a reading component. In addition, student activities, vocabulary words and questions for discussion are provided for teachers or tutors working with adult learners.

► Download the HELP instructors guide.
If you have any questions about the HELP project, contact Lauren Schwartz, Educator at the NYC Poison Control Center at 212-447-2599.
More Resources
The Health Education Literacy Program (HELP) is a project of the NYC Poison Control Center in collaboration with Literacy Partners. Funded in 2001 by the Pfizer Foundation, HELP promotes information about medicine safety to adults with limited literacy skills.
Last Updated June 24, 2013