Choose safe products. Before you buy any product:

Read the label.
Choose products with child-resistant caps whenever possible
Compare products.
Buy the smallest amount possible.
► See You Can Poison Proof Your Home (PDF)
Other languages: :[Español][中文][Русский][Creole]
Use products safely. Be sure to:
Read the directions each time you use a product.
Don't leave your child alone with a product, not even for a second,
to answer the door or telephone.
Keep the lights on and wear your glasses whenever taking medicine
► Use the Poison Lookout Checklist
to help you poison proof your home.
Store all products safely. Be sure to:
Keep products out of reach in a locked cabinet
Store all products in original containers. Never store poisons in a food or beverage bottle.
Store food and non-food products separately-packaging often looks similar
Use child-resistant containers and keep them
closed properly.
Keep your purse out of reach of children.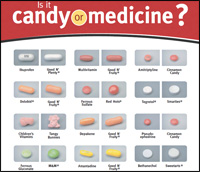 Never call medicine candy. Children should know the difference.
Keep medicines in a locked cabinet out of reach.
Do not take medicine in front of children. Children often imitate adults.
Teach children not to take medicine unless given to them by an adult they trust.
► See Is it Medicine or Candy? (PDF)
Other languages: :[Español][中文
► See Put Your Medicines Up and Away and Out of Sight

Be safe about plants.
Choose non-poisonous plants for your home. Ask your poison control center or a local florist about a plant's safety.



Learn which plants are toxic to children and pets. Label the plants.



Keep plants up high and out of reach of children and pets.
► See You Can Prevent Plant Poisonings (PDF)
Other languages: [Español][中文] [Русский] [Haitian-Creole]
Last Updated: June 27, 2013