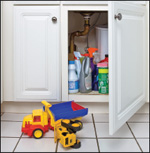 Did you know:
Household products, such as bleach and laundry detergent were a leading cause of unintentional poisonings in NYC in 2010.



About 40% of the nearly 70,000 calls received by the Poison Control Center
last year were for children under five.



About 90% of poisonings occur in the home.
Keep cleaners, medicines and cosmetics out of children's reach or locked in cabinets. If you suspect a poisoning has happened or have questions about medicine safety, call 1-800-222-1222 right away. Do not wait for symptoms. The poison specialists are available 24 hours a day, 7 days a week. All calls are free of charge. Translater services are available.


► See Poison Proof Your Home


► See warnings about camphor products linked to childhood seizures
Top Reasons for Calls to Poison Control Center for
Children Under Five (2010)

Hazard

Examples

Number of Calls

1. Cosmetics/
personal care products

hand soap, shampoo

2,362

2. Household Cleaners

Bleach, ammonia, detergent

1,677

3. Analgesics

ibuprofen, acetaminophen

1,554

4. Foreign Bodies

silica packets from bags/shoes

1,456

5. Topical

diaper rash cream, petroleum jelly

1,288

6. Vitamins

tablets

672

7. Pesticide/
Rodenticides

bait pellets

593

8. Arts/Crafts

crayons, glue

561

9. Cough & Cold

cough syrup, cold medicine

513

10. Antihistamines

tablets

447