Formaldehyde in Brazilian Blowouts and Other Hair Straightening Products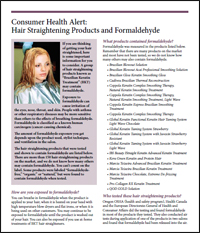 If you or anyone in your salon uses hair straightening products, here is some important information for you to consider. A group of hair straightening products known as "Brazilian Keratin Treatment" (BKT) may contain formaldehyde.

Exposure to formaldehyde can cause irritation of the eyes, nose, throat, and skin. People with asthma or other respiratory diseases may be more sensitive than others to the effects of breathing formaldehyde.

Formaldehyde is classified as a known human carcinogen (cancer-causing chemical). Formaldehyde exposure in some occupations has been linked to cancer of the nasal passages and upper throat.

► Learn more about Formaldehyde in Hair Straightening Products
from the New York State Department of Health



These products are used widely both nationally and locally here in NYC. Federal authorities are investigating worker exposure and assessing health risks. Call the Poison Control Center at (212) POISONS (764-7667) if you have experienced any health effects from using these products.


More Resources
Last Updated July 24, 2013