What are lice?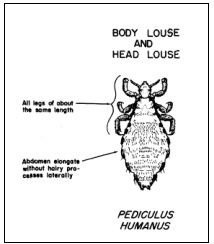 Lice are six-legged, wingless, insect parasites of humans, mammals (cattle, pigs etc.), and birds (chicken and other birds). Lice are divided into two groups: lice found on mammals, which need blood for sustenance; and those found on birds, which chew on feathers and dandruff. The three most common external parasites of humans are:
head lice (Pediculus humanus capitus);
body lice (Pediculus humanus humunas); and
crab lice (Pthirus pubis).
All lice have flattened bodies to allow them ease of movement in the hair, fur, and feathers of their hosts. Infestation of a person with head and/or body lice is termed "Pediculosis" and with crab lice is called "Pthiriasis."
Pediculousis, or infestation with body and/or head lice, causes little irritation initially. After weeks of continued biting, some individuals may become sensitized and suffer an allergic reaction. Head lice infestation results in intense itching of the scalp behind the ears and base of the hairline or nape of the neck. Sores may form on the head from scratching and may become infected with bacteria. The symptoms of body lice infestation are scratch marks, hives, eczema and a red rash on shoulders and other areas covered with clothes. Pthiriasis, or pubic lice (crab lice) infestation, results in continued itching in the pubic area, a rash, and sometimes discoloration of skin from continued feeding by crab lice.
See the web sites below for further information and to look at photographs of all three types of human lice.
Resources