► See the Restaurant Inspection Results (Letter Grades).
► Watch our Food Safety Videos
Is your restaurant wheelchair accessible? See if your restaurant qualifies for a "Wheelchair Friendly" window decal, issued by the City of New York, to display at your restaurant and attract new customers. More information on Restaurant Wheelchair Friendly Decal.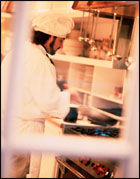 Whether you work in a restaurant, soup kitchen or other food service, the Health Department has important information about operating a clean, safe, healthy and legal business.
More Resources