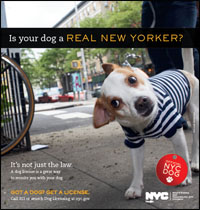 It's the Law!
New York State law requires that all owned dogs be licensed and the NYC Health Code §161.04 require every dog owner to have a dog license tag attached to their dog's collar while in public. Dog owners may be fined for violation of these laws.

If you live in one of the five boroughs of New York City,  call 311 to have an NYC dog license application mailed to you or download it from this web site.

Dog owners may also apply and make payment online for a new dog license or renew an existing one.


Get a License for Your Dog in Less Than One Day!

Stop by the NYC Department of Health and Mental Hygiene booth
at one the following events and you can obtain a dog license.

May 18, Saturday
Paw Day
10am to 1pm

Carl Schurz Park, 84th & East End Ave.
Manhattan
June 1, Saturday
Pet Event
11am to 5pm

Upper West Side, 92nd St. & Broadway
Manhattan
June 2, Sunday
Adoption Event
12pm to 5pm

Union Square
Manhattan
July 13, Saturday
Animal Advocacy Day
10am to 2pm

Forest Park Band Shell Parking Lot
(Myrtle Ave., Union Turnpike,
Park Lane South bet. Brooklyn-Queens County Line and Park Lane)
Queens
August 28, Wednesday
Bark in the Park
5pm to 8pm
MCU (Brooklyn Cyclones) Stadium, Coney Island
Brooklyn
September 8, Sunday
Adoptapalooza
12pm to 5pm
Union Square
Manhattan
New! The NYC Dog eLocator System is an on-line service available to anyone
who finds a lost dog that is wearing a New York City dog license. Learn more.

► Apply online for a dog license or renewal license
Please Note: If you live outside of New York City, you should contact your local health department or the State of New York to find out how to get a dog license where you live.
Frequently Asked Questions
Benefits of Licensing
Licensing helps reunite lost dogs with their owners via the new dog eLocator system.
With proof of current dog license and rabies vaccination, your dog can run off-leash in the NYC parks dog runs.
Licensing is important to family emergency preparedness planning to ensure a dog and its owner is reunited in case of separation during an emergency.
Information about licensed dogs assists in the medical follow-up of individuals potentially exposed to infected dogs, especially important during rabies outbreaks.
Licensing helps enforce the New York State spay/neuter law, which mandates a surcharge on the license fee for unaltered dogs. Spaying or neutering is in the best interest of your pet because it helps reduce the stray animal population and may help reduce unwanted behaviors as well.
How to Obtain an Application
You can apply or renew a dog license online or download one from this web site. You can also call 311 and ask for one to be mailed to you or ask for one from a veterinarian, animal shelter or pet shop.
Online New License, Renewal Application & Payment
You may also apply and

make payment online

for a new dog license or renew an existing dog license. Registration and credit card payments are accepted.
Time To Receive License & Status
The license should be received approximately 2 to 4 weeks after the owner's check is cashed or credit card is debited (when purchasing online). Status of applications will only be available 3 weeks after owner's check is cashed or credit card is debited by calling 311 and asking for Dog License Status.
Fees
The fee to license your dog in New York City is $8.50 if your dog is spayed/neutered or $34 if you do not provide proof that your dog is spayed or neutered.

In order to prove that your dog is spayed/neutered, you must submit a copy of the certificate of spay/neuter from your veterinarian with the application or complete and notarize the affidavit on the application.
Renewal Fees & Process
You only need to submit an application once. After your dog is licensed a renewal notice will be mailed to you annually. If a renewal form was not received, it can be requested by calling 311.

The fee to renew a dog license is $8.50 for a spayed or neutered dog and $34 for a dog that is not spayed or neutered. A check or money order should be made payable to NYC DOHMH.

If you are renewing by mail, please return your renewal form and check or money order, made payable to the NYC DOHMH along with any changes to the address below. The envelope should be postmarked no later than the license's expiration date so that the renewal is received within 10 days of license expiration date.

If the license expiration date has passed, including the 10 day grace period, you should add an additional $2 late fee to the cost of the license. An owner is liable for each year a license is not renewed and will be assessed late fees for each year as well. Applications should be mailed to:
NYC Department of Health and Mental Hygiene
Veterinary Public Health Services
P.O. Box 4768, Church Street Station
New York, NY 10261-4768
Change of Address In-Between Renewals
Change of address information must be provided in-between renewals. Owners may register online and update their information any time by accessing the Dog License Registration System and selecting "Edit Profile". By mail, owners should send a letter with their name, dog license number, and current and changed address information to:
Veterinary Public Health Services,
Dog Licensing Unit
NYC Department of Health and Mental Hygiene
125 Worth Street, CN 61
New York, NY 10013
Service Dogs
All dogs, including service dogs are required to purchase a standard NYC Dog License and to renew that license annually. Owners of service dogs may request from the NYC Health Department, free of charge, an optional, separate Service Dog Tag. An applicant will be required to submit a written statement from a trainer, whose education, experience and training are acceptable to the Department, stating that such dog has been individually trained to perform a task or tasks for the person applying for the tag. All documentation submitted for a Service Dog Tag must be verified and approved by the Dog Licensing Unit.

The Americans With Disabilities Act (ADA) defines service animals as such: "Service animals are animals that are individually trained to perform tasks for people with disabilities – such as guiding people who are blind, alerting people who are deaf, pulling wheelchairs, alerting and protecting a person who is having a seizure, or performing other special tasks. Service animals are working animals, not pets."

Access to Businesses: A person with a disability accompanied by a service dog is not required by law to show proof or confirmation that they have a disability or that the animal accompanying him or her was trained to be a service animal. Business owners, including operators of food establishments, must abide by the requirements of the ADA with respect to service dogs and allow access to their establishments or facilities regardless of whether the dog is wearing a service tag or not.

Call 311 to apply for a service dog tag or obtain more information about access for service dogs.
Guard Dogs
Owners of guard dogs are required to purchase a standard NYC Dog License and to renew annually for the life of the dog and may do so online.

Pursuant to Health Code § 161.09, all trained guard dogs must be licensed and registered with the Department of Health and Mental Hygiene and wear at all times, the Guard Dog Tag issued by the Department. In addition, owners are required to have their trained guard dog implanted with a microchip as a permanent form of identification and must supply the identification number to the Department. The fee to register a trained guard dog is $10.00. Please call 311 for instructions and a special application.

Owners and or other persons in control of the premises where a trained guard dog is kept are required to post clear, legible and durable signs warning the public of the presence of such trained guard dog. Such sign must include the name and other contact information for the owner of the trained guard dog. Additionally, all persons who train, sell or rent guard dogs shall post a durable sign or notice, clearly and legibly printed, warning all users that they must comply with the licensing, tagging, micro-chipping, and signage requirements of the Health Code.

Call 311 for information on obtaining a Guard Dog license.
How to Replace a Lost License Tag
A dog license tag may be replaced online or by sending a copy of the license certificate with a check or money order for $1.00 payable to NYC DOHMH. The mailing address is:
NYC Department of Health and Mental Hygiene
Veterinary Public Health Services
P.O. Box 4768, Church Street Station
New York, NY 10261-4768
Replace a Dog License Certificate by Mail
Dog license certificates will be replaced at no charge. Requests must be made by writing to the Health Department's Dog License Unit. Requests must include owner's name, address and dog name or license number. The mailing address is:
Veterinary Public Health Services,
Dog Licensing Unit
NYC Department of Health and Mental Hygiene
125 Worth Street, CN-61
New York, NY 10013
Report the Death of a Licensed Dog
Owners of dogs licensed in New York City can report the death of a dog by sending a letter to the address below. Please include your name, address and the dog's name or 7-digit tag number. Please also include a phone number or e-mail address in case the Department needs to contact you.
Veterinary Public Health Services,
Dog Licensing Unit
NYC Department of Health and Mental Hygiene
125 Worth Street, CN-61
New York, NY 10013