About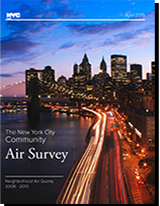 Read the New York City
Community Air Survey,

2008-2013

The Health Department and Queens College (QC-CUNY) are conducting the New York City Community Air Survey (NYCCAS) to evaluate how air quality differs across New York City. As part of the City's sustainability initiative, PlaNYC, this program studies how pollutants from traffic, buildings (boilers and furnaces), and other sources impact air quality in different neighborhoods.

NYCCAS monitors pollutants that cause health problems such as fine particles, nitrogen oxides, elemental carbon (a marker for diesel exhaust particles), sulfur dioxide and ozone. Although New York City air quality is improving, the Health Department estimates (PDF) that fine particle pollution alone caused an average of more than 2,000 deaths, approximately 1500 hospital admissions for lung and heart conditions, and 5,000 emergency department admissions for asthma based on levels in 2009-11.

NYCCAS air pollution measurements are taken at about 100 locations throughout New York City in each season. Monitors are mounted 10 to 12 feet off the ground on public light poles or utility poles along streets and in some parks. The monitors use a small battery-powered pump and filters to collect air samples.
NYCCAS Reports
Supplemental and Interim Reports
Results from Seven Years-2009-2015
Online Data
Interactive queries of some NYCCAS results are available on the Environment and Health Data Portal
NYCCAS Scientific Publications
Health Department Studies of Air Pollution Health Effects