Every summer, New York City's

beaches are a favorite recreation destination.

The Health Department provides the latest water quality information to ensure that your trip to the beach will be a safe and healthy one. Water quality conditions are analyzed on a regular basis and beaches are classified as either "Open for Swimming," "Under Advisory," or "Closed – Restricted for Swimming and Wading." If a beach is closed to bathers, or if there are advisories due to wet weather conditions or increased pollution levels, up-to-date information will be available here or by calling 311.

► Read the press release: The Health Department Launches New Texting Program to Inform New Yorkers About Beach Closings

The map below indicates the 8 public beaches operated by the New York City Department of Parks and Recreation as well as the 13 beaches run by private beach clubs. To see the current status of a beach,
browse the map or table below. Click on the beach name in the table below the map to see detailed
water quality information.

► See a mobile-enabled version of the NYC Beach Conditions.

The Beach Map and Chart is currently under construction. Check back before the 2016 Beach Season to view the updated interactive map.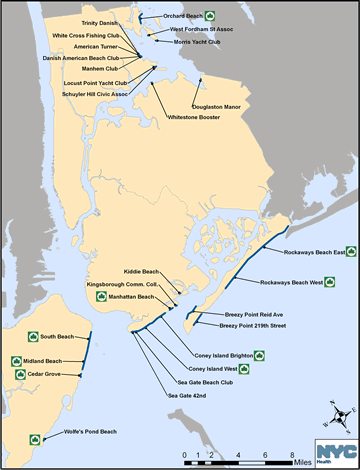 click to enlarge
Beach Classification Description & Table Key
Beaches which are classified as "Closed" or "Advisory" may be contaminated with sewage or storm runoff. Contact with contaminated water my cause illnesses such as vomiting, diarrhea, nausea, respiratory illness and infections. Children, pregnant women, the elderly and the chronically ill are at higher risk of increased illness.
► Return to the Beach Quality and Safety Homepage