Why should you spay or neuter your pet?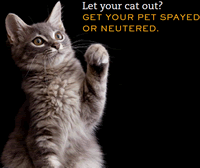 One of the most important health decisions a pet owner will make is to have their pet spayed or neutered. Spaying or neutering promotes a healthier life for your pet and saves you money. It also reduces overpopulation and euthanasia of unwanted animals.
New York City has many free or low-cost clinics and programs where pet owners can learn more and access services.
Invitation to Trap-Neuter-Release Programs
NYC Low-Cost Spay/Neuter Clinics