Overview
Active design is a planning approach creating buildings and communities that encourage physical activity and promote health. Bringing active design to neighborhoods, buildings and streets will encourage walking, bicycling, stair climbing and active play – and ultimately, will improve the health of community residents. Active design measures include creating pedestrian plazas, ensuring well-maintained sidewalks, planting street trees, and providing secure bicycle storage and attractive, accessible stairs in buildings
Publications
Please note that all publications are in PDF format.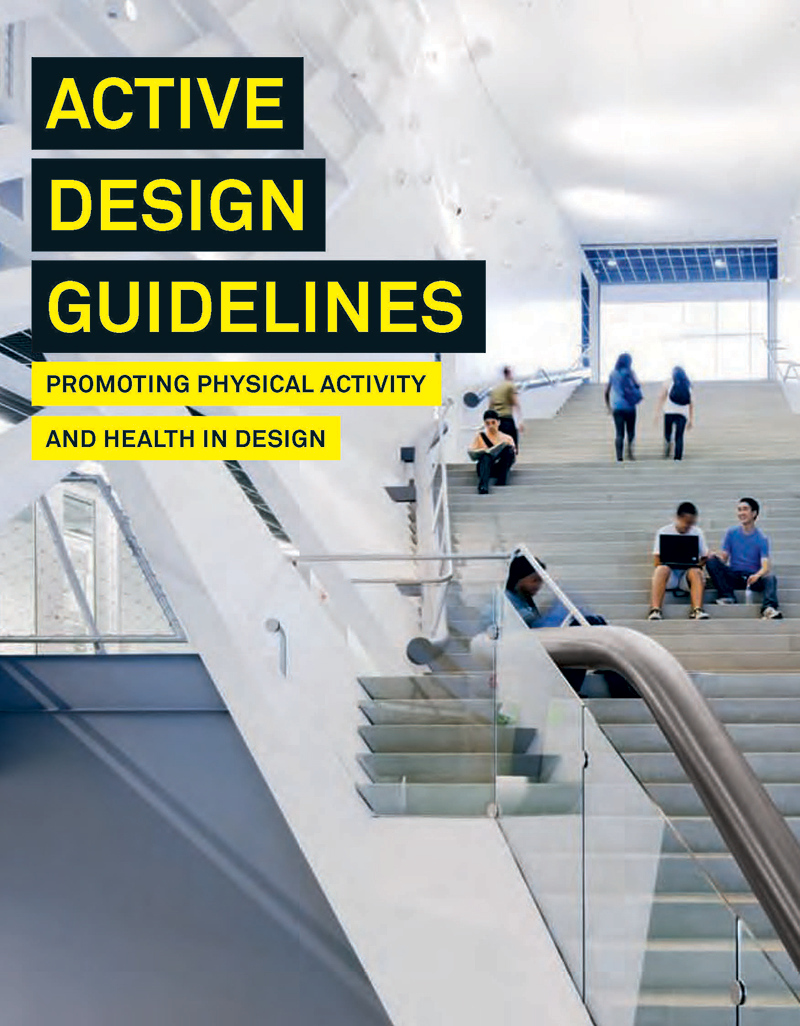 The Active Design Guidelines is a collection of evidence-based strategies to create
healthier buildings, streets and urban spaces. Nationally recognized, the Guidelines serve as a resource to architects, urban planners, designers and public health professionals.
Learn more about the process of developing and implementing the Active Design Guidelines in New York City.
Four Active Design Supplements build on the success of the Guidelines: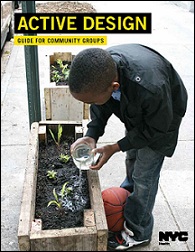 Active Design Guide for Community Groups describes how you can make your community a place where people can be physically active, have access to healthy foods and beverages and be socially engaged. Email activedesign@health.nyc.gov or call 311 to order a free copy.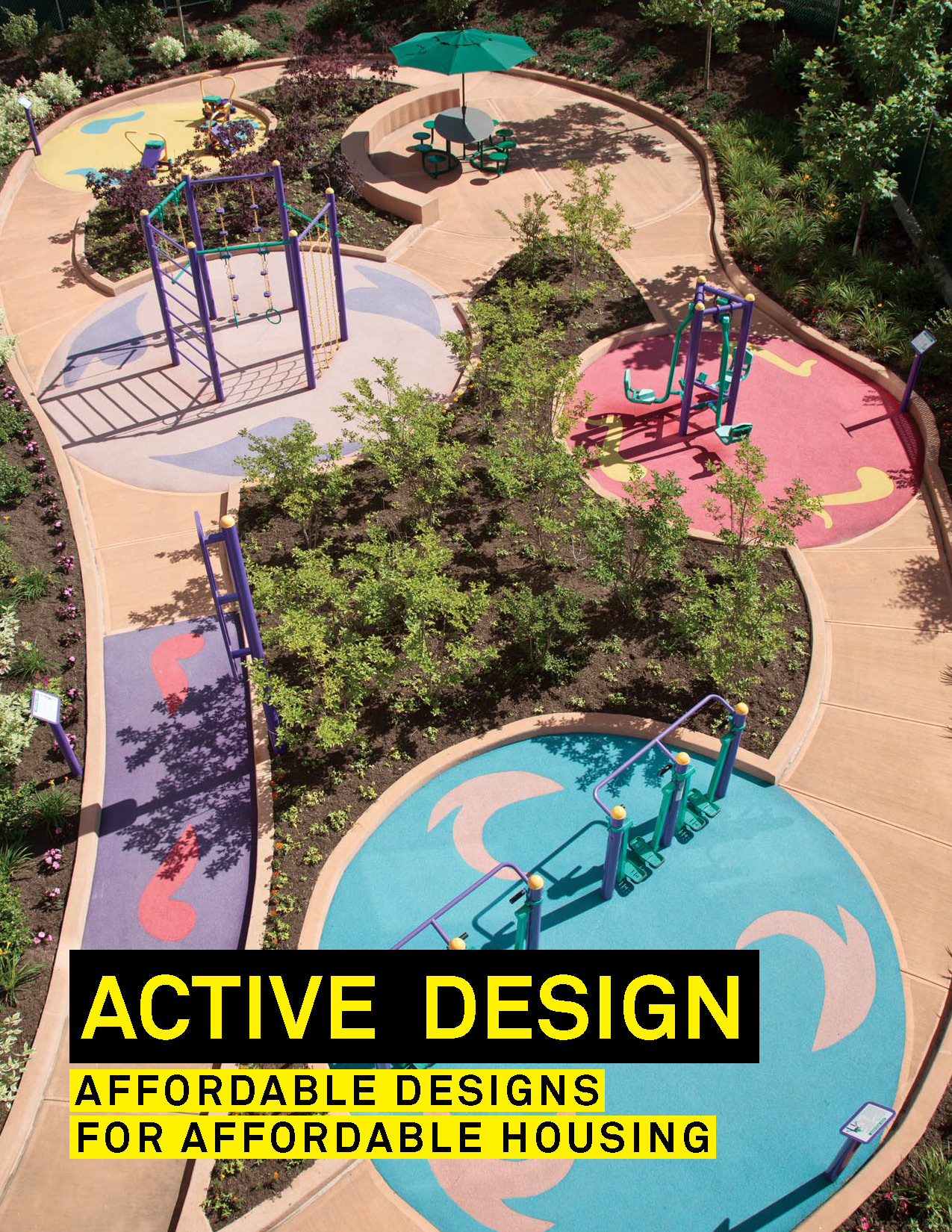 Affordable Designs for Affordable Housing focuses on feasible, low-cost ways to implement active design in affordable housing developments. Drawing on case studies from 3 major U.S. cities, this supplement provides concrete examples of how simple design changes can help encourage active living among residents of all ages.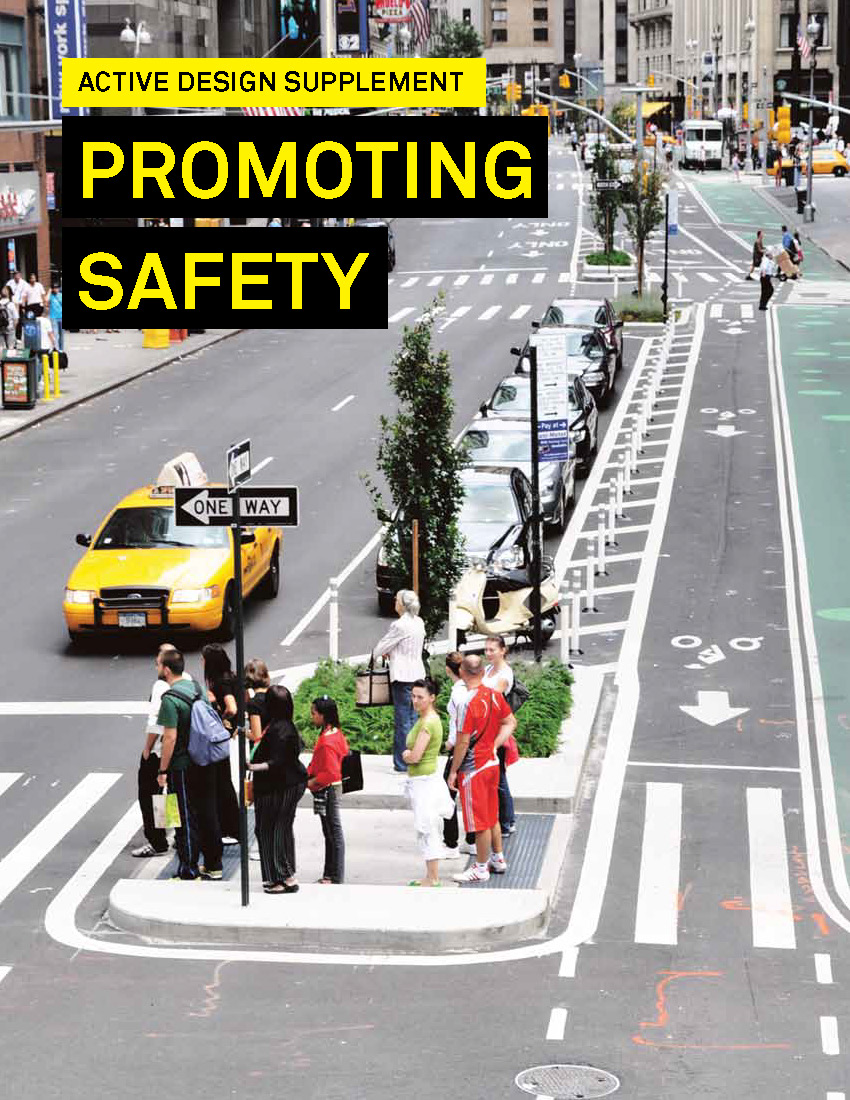 Promoting Safety provides strategies for reducing the risk of injury while also promoting active living through walking, bicycling and increased access to public transit.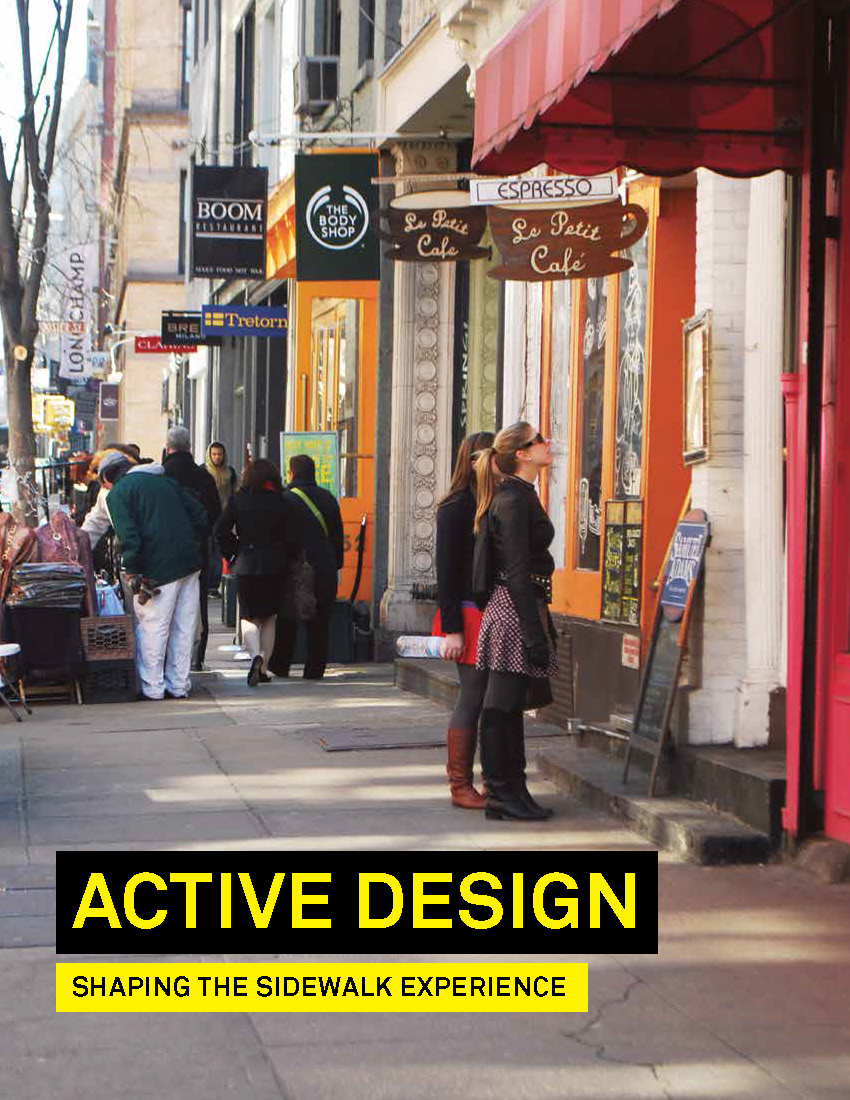 Shaping the Sidewalk Experience presents a framework for creating safe, attractive sidewalks that promote active living.

Trainings & Workshops
Trainings for Professionals
The Center for Active Design trains community groups, architects, landscape architects, urban planners, developers, and green building professionals on active design strategies. Sign up to find out about upcoming training events.

Community Workshops
We work with partner organizations, such as the Partnership for a Healthier NYC, to offer workshops on bringing active design to communities around the city. For more information about hosting a workshop in your community, email activedesign@health.nyc.gov.

Fit City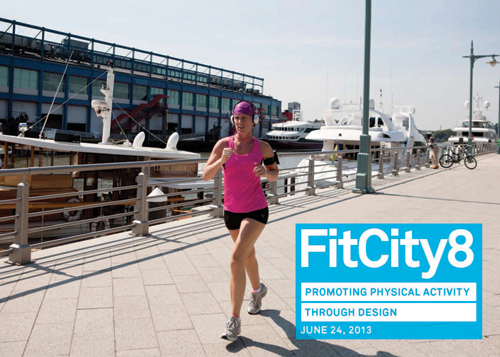 Each Spring, we partner with the American Institute of Architects New York Chapter (AIANY) to host the annual Fit City conferences. Since 2006, Fit City has brought together community leaders, architects, planners, designers, landscape architects, developers, green building professionals and public health professionals to discuss how design, policy, and practice decisions can address the key health epidemics of our time: obesity and related chronic diseases.
Visit AIA New York Chapter to find out when the next Fit City will be held and to download reports from past Fit City conferences, as well as Fit Nation conferences held in New Orleans and Washington D.C.
For more information, email activedesign@health.nyc.gov
"Burn Calories, Not Electricity" Stair Prompt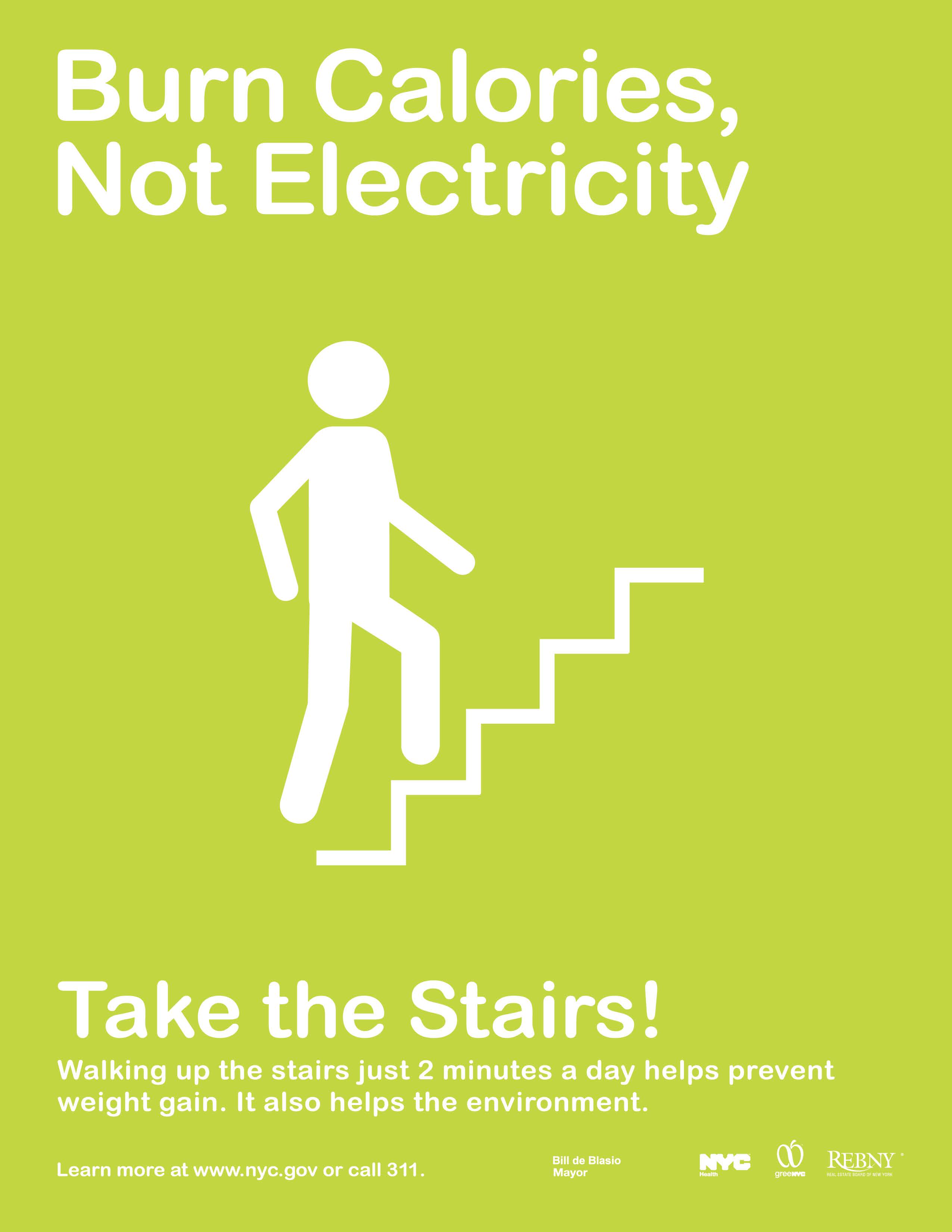 When we enter buildings, we are often presented with a choice between taking the stairs and taking an elevator or escalator. Choosing the stairs is a simple way to add physical activity to your daily routine, and climbing six or more flights per day is associated with very good or excellent health.

Posting motivational signs at points-of-decision, such as at elevators and escalators, have been shown to increase stair usage.

Download the "Burn Calories, Not Electricity" Stair Prompt or call 311 to order a stair prompt in English or Spanish.

For more information about low-cost interventions to promote stair use, such as painting the walls, hanging framed artwork, posting motivational signs, and playing music, visit the CDC's StairWELL to Better Health.
LEED Pilot Credit "Design for Active Occupants"
The "Design for Active Occupants" LEED pilot credit rewards buildings undergoing LEED Green Building Certification with a point for design strategies that promote stair use and active recreation. This credit complements others available to promote active transportation, including bicycle storage, transit access and community walkability.

Architects and developers are encouraged to use this credit as part of their LEED certification. New construction and major renovation projects for City buildings are now expected to routinely use this credit to promote health, as well as environmental sustainability.