The average person as well as those with specialized skills can volunteer to receive training in order to assist the general public in emergency situations. There are a variety of options.
Preventing Heat Illness
Hot and humid summer weather can cause serious illness and death. On average, more Americans die from heat waves than all other natural disasters combined. The best way to prevent heat illness is to stay in an air conditioned place. Make sure you are prepared and help family, friends, and neighbors stay cool during a heat wave.
Hurricane Preparedness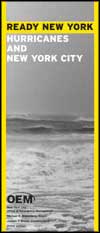 Ready New York: Hurricanes and New York City includes general tips on how to prepare for any emergency, instructions on how to develop a hurricane disaster plan and secure your home before a storm, and a map of New York City hurricane evacuation zones.
Ready New York: Hurricanes and New York City (PDF)
Other languages:[Español] [中文] [Русский] [ 中文] [Kreyòl] [한국어] [Italiano]
[عربي][اُردو/Urdu] [Polish] [Yiddish] ]