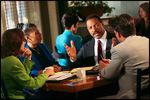 Public health emergency planners help to ensure that communities are ready in the event that disaster strikes. Public health emergency planners develop checklists, plans, and guides that assist agency leadership and staff their citizens.

It is important that public health emergency planners in other jurisdictions share best practices and lessons learned with each other. The following resources can be of assistance. For questions or more information, contact us at phprep@health.nyc.gov.


Flu Health Planning
New York State Resources
Division of Homeland Security and Emergency Services: The NYS OEM Planning Section, in conjunction with the New York State Emergency Management Association (NYSEMA), develops tools to assist emergency managers and planners in formulating, developing and writing emergency plans.
Regional
Federal
Academic Centers
Last Updated: January 16, 2013