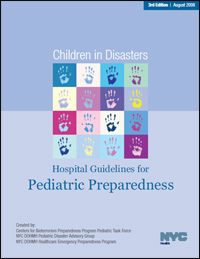 These resources will assist hospitals to prepare for pediatric victims and their families during disasters affecting large numbers of children.

► Download Children in Disasters : Hospital Guidelines for
Pediatric Preparedness , 3rd edition, Nov. 2008
NYC Pediatric Disaster Coalition
The NYC Pediatric Disaster Coalition is a group of hospitals, public health, municipal services and community groups to ensure the effective use
of critical assets during and after a large scale disaster affecting children.


Pediatric Disaster Hospital Tabletop Exercise Toolkit
The toolkit supplies all the materials needed for a hospital to conduct a tabletop
exercise using a predominantly pediatric population in the scenario.
More Resources