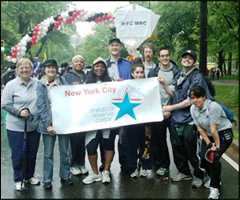 The New York City Medical Reserve Corps (NYC MRC) is a trained group of almost 6,000 volunteer health professionals ready to respond to health emergencies. New members are welcome!

* Letter from Commissioner Farley
► See Classes & Trainings
NYC Medical Reserve Corps: Sign up now!
When you select Sign up now!! you will be re-directed to the NYC Medical Reserve Corps (MRC) homepage on the ServNY volunteer registry to register as a new volunteer for the NYC MRC.



► See Directions for registering
to become a member of
the NYC Medical Reserve Corps(PDF)
A N N O U N C E M E N T S

Hurricane Sandy tested the strength of our city, causing widespread flooding,and evacuations. NYC Medical Reserve Corps was instrumental in helping to staff both general hurricane shelters, and special medical needs shelters. MRC members who were medical professionals and mental health professionals served almost 7,000 citizens in the shelters.

MRC members assisted Department of Health staff I with the Patient Tracking System, going into shelters to help identify displaced nursing home and adult home patients and collecting data, which was put in a database so that families could find their loved ones. MRC mental health professionals also provided mental health support in the NYC Restoration Centers.

From October 28th to January 2nd , over 1,229 MRC members were deployed during Hurricane Sandy, and provided over 19,000 hours of service.

-----------------------------------------------------------------------------------------------------------------------
MRC again stepped up to serve during a Hepatitis A exposure in Manhattan in April 2013, providing nurses and doctors to conduct vaccinations. MRC members also acted as flow monitors at the clinic, and served in the Department of Health Call Center, calling those who were potentially exposed to Hepatitis A.
MRC Code of Conduct