---
---
NYC Medical Reserve Corps Newsletters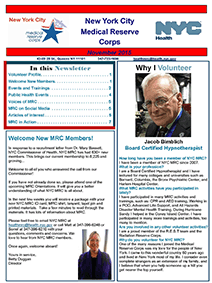 November 2015 MRC Volunteer Newsletter
(
Click on the newsletter for a larger version.
)
The Medical Reserve Corps Volunteer Newsletter is automatically sent to all members. If you are an MRC volunteer and are not receiving the newsletter, please email
healthmrc@health.nyc.gov
or call 347-723-2696.
Let us know if you have an news for an upcoming issue of the newsletter, or if you or someone you know someone we might feature in the volunteer spotlight.
---
2015 Newsletters
2014 Newsletters
2013 Newsletters
2012 Newsletters
2011 Newsletters
---
Archive
2010 NYC MRC Volunteer Newsletters
2009 NYC MRC Volunteer Newsletters
2008 NYC MRC Volunteer Newsletters
2007 NYC MRC Volunteer Newsletters
2006 NYC MRC Volunteer Newsletters
2005 NYC MRC Volunteer Newsletters
2004 NYC MRC Volunteer Newsletters
---