---
---
NYC MRC Cadres/Advisory Board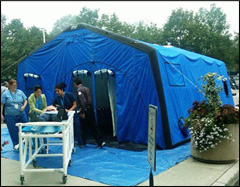 The NYC Medical Reserve Corps Advisory Board consists of MRC members representing a broad spectrum of health care professions. They represent the best in their fields, and lend their expertise to help guide decisions about NYC MRC policy and activities.

Members must provide evidence that they have completed ICS 100, ICS 700 and MRC Orientation.

The Advisory Board meets quarterly, and membership is by invitation only.
---
Radiological Reserve Corps
NYC MRC seeksm health physicists, radiation safety techs, nuclear medicine techs, radiation oncology techs, radiation safety officers, medical physicists, people with experience with radioactive substances, and others with familiarity with radiation safety practices to become members of the Radiation Reserve Corps (RRC). Candidates who have familiarity with radiation detection equipment and radiation safety practices are needed most, but others are also welcome to join us.
We hope to have 3 tiers of RRC: Radiological experts, medical personnel and general volunteers. Even if you do not have radiological experience but would like to assist in a radiation emergency, you can be part of the group. You will be part of both NYC MRC and RRC.
The Radiation Reserve Corps will be mobilized in response to radiological and nuclear emergencies in New York City to help screen people for radioactive contamination and to help treat those who might have inhaled or swallowed radioactivity during an emergency. You need not reside in NYC, but must be willing to come to the city in the event of an emergency.
Benefits of belonging to RRC include twice yearly symposia on Radiation topics, trainings on radiation detection, a quarterly electronic newsletter with the latest news about radiological terrorism and emergency and the knowledge that you are helping to keep NYC safe.
Resiliency Emotional Support Team (REST)
The REST Team is comprised of a core group of qualified, trained individuals who, when activated, can be rapidly mobilized to provide on-site disaster mental health services. The REST team provides disaster mental health services such as information and referral, psychological first aid (PFA) and crisis counseling. These services might be provided on site within the Ne York City Health Department and/or at City-designated response sites.
At this time we are inviting qualified mental health MRC volunteers to become part of the REST team. Qualified MRC volunteers are welcomed to participate in the all-day All Hazards Disaster Mental Health training, which is the prerequisite for all members of the REST Team. MRC volunteers must meet at least one of criteria's below in order to be considered for the REST Team.
NY State License or Certificate as a (SW, Counselor, Therapist or Qualified Psychiatrist (NYSMHL)

Master degree and at least 2 years of full time experience providing MH Services or 1 year of experience providing services to those experiencing traumas or disasters

Bachelors degree and 2 years of experience providing MH services
For upcoming training dates please refer to the MRC training calendar. As members of the REST team you will receive free disaster related training and opportunities to participate in drills. As part of the REST team you will gain satisfaction from knowing that you are helping New Yorkers become better prepared to respond to and recover from the mental health implications of disasters and public health emergencies.
Sheltering Reserve Corps
NYC Medical Reserve Corps has created a sub group of the NYC MRC to respond to Coastal Storms by assisting in Special Medical Needs Shelters (SMNS). As a Sheltering Group volunteer, you will be called upon in the event a coastal storm requires evacuation of low-lying parts of NYC.
We are seeking Physicians, NPs, RNs, PAs, LPNs, NAs, Patient Care Associates, Home Health Aides, and Mental Health Practitioners to assist with screening patients in the Evacuation Centers to determine who needs SMNS, and providing care in the SMNS themselves.
You may indicate whether you prefer to do screening in an Evacuation Center, work in the SMNS, or be deployed where there is the greatest need. Those who enroll in the Sheltering group will be members of both the NYC MRC and the Sheltering Response Group.
The benefit of joining the group would be additional training and the knowledge that you are helping our most vulnerable citizens.
---
Current NYC MRC Advisory Board Members
Norberto Alberto, PharmD
Director of Pharmacy Services (Hospital Setting)
Ariel Alvarez, RN
Critical Care Medicine, Home Care, Pediatrics, Psychiatry, Surgery
Barbara Ash, OT
General Practice
Bernice Banschick, NP
General Practice
Jon Bloomberg, EMT
Administration/ EMT/Paramedic
Patricia Buttenheim, RN
Administration
Ann Barber, MD
Internal Medicine
Okja Cho, RN
Emergency Medicine, Internal Medicine, Surgery
Alain Fedida, MD
Cardiology, Emergency Medicine, Internal Medicine, Nuclear Medicine
Luis Fujimoto, DDS
Dentistry
Rosamond Gianutsos, PhD
Psychology, Neurology
David Glotzer, DDS
Dentistry
Priscilla Gonzalez, RDH
Dental Hygiene
Gary Guarnaccia, MD
Obstetrics & Gynecology
Mark Jarrett, MD
Rheumatology
Adam Lichtman, MD
Anesthesiology
Joseph Machac, MD
Nuclear Medicine
Ralph Nofi, PsyD
Clinical Psychology
Wendy Russo, RN
Administration, Emergency Medicine
Jean Sanchez, RN
General Practice, Home Care, Occupational Medicine, Substance Abuse
Kesiah Scully, EMT
Paramedic
David Seres, MD
Internal Medicine
Anthony Smith, RN
Pediatrics, Psychiatry
Barbara Smith, RN
Infection Control
Christopher Smith, LMHC
Administration, Psychology
Deborah Symonette, MD
Emergency Medicine
Stella Vilceus, RN
Psychiatry
Darryl Wisher, RPh, EMT
Family Practice
---