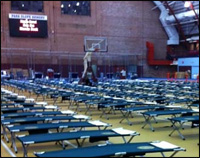 The following information can assist healthcare facilities with disaster preparation in cases such as pandemics or other emergencies. Guidance documents, trainings and other tools are included.
Topics
Pandemic Influenza Surge Capacity Plans
Hospital Surge Capacity Expansion Tools
The Respiratory Surge Capacity and Capability Improvement Pilot Project (ReSCCIPP)
The goal of ReSCCIPP is to increase citywide critical respiratory care surge capacity and capability by:
Increasing the number of ventilators available to hospitals that could be used during a critical
surge event;
Providing standardized, competency-based training necessary for increasing hospital
staff capability to use the city cache ventilators during a surge event such as pandemic influenza; and
Evaluating the performance of these ventilators in use by New York City hospitals, in their
patient care units and Respiratory Therapy departments. This evaluation will inform citywide planning for a pandemic event.
Any questions regarding this project should be directed to hepp@health.nyc.gov
Last Updated: July 12, 2013