Calling all Community Leaders: You can help stop tuberculosis (TB) in New York City!
Although TB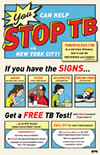 rates have declined in New York City, there continue to be pockets of TB transmission citywide. We're counting on you and other community leaders to help us increase awareness about TB and the free TB services available from the Department of Health and Mental Hygiene. In addition to the materials listed below, comic-strip-style posters are available for display and distribution to your membership and clients.

The poster's message is: If you have the SIGNS of TB (Cough, Fever, Appetite Loss and Feeling Tired all the Time), get a FREE TB TEST!

Posters are available in English, Spanish, Chinese, Haitian Creole, French, Filipino, Hindi, Bengali, Urdu and Tibetan. To order posters you may email us at TBTraining@health.nyc.gov
or call 347-396-7400. Or download a copy (PDF)

Thanks for your help. Together, we can stop TB in NYC!
Patient Education Materials