Sodium & Health
Diets high in salt intake increase blood pressure, which is a major risk factor for heart disease, the leading cause of death in the United States, and stroke. Learn more about the link between sodium and health from these Frequently Asked Questions (PDF). Visit the Choose Less Sodium page for tips on reducing your own salt intake
Sodium Warning Labels
New York is the first city in the nation to require chain restaurants to post warning labels next to menu items that contain high levels of sodium. The proposal, which was passed unanimously on September 9 by the New York City Board of Health, requires restaurants with 15 or more locations nationwide to post the warning labels starting December 1, 2015. Read the compliance guide (PDF) about the new sodium warning rules for chain restaurants.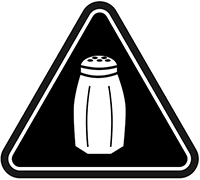 Download sodium warning icon: JPEG or TIF

For questions about the sodium warning label icon, contact salt@health.nyc.gov

High Sodium Warning Label: Why It Matters (PDF)
Other languages: [বাংলা] [中文] [Kreyòl ayisyen] [한국어] [Русский] [Español]

Sodium Warning Label: Presentation to the Board of Health (PDF)

Health Code Rule about Sodium Warning Labels (PDF)
National Salt Reduction Initiative
The NYC Health Department is coordinating an unprecedented public-private partnership to help prevent heart disease and strokes by reducing the amount of salt in packaged and restaurant foods. The National Salt Reduction Initiative (NSRI), a partnership of more than 95 state and local health authorities and national health organizations, sets voluntary targets for salt levels in 62 categories of packaged food and 25 categories of restaurant food to guide food company salt reductions in 2012 and 2014. Some popular products already meet these targets – a clear indication that they are achievable.

When a company signs onto the initiative, it pledges that its overall sales in a given food category – canned soup, for example – will meet the relevant target for salt content, even if some individual products don't. Unlike past salt reduction efforts in the United States, the NSRI includes mechanisms to monitor sodium in the food supply to track companies' progress toward specific targets. The NYC Health Department measured sodium intake of New Yorkers through a 24-hour urinary sodium analysis as part of the Heart Follow-Up Study (HFUS).

Learn more about the NSRI's Goals and Summary (PDF) or check out some Frequently Asked Questions (PDF).

Company Commitments to NSRI Targets

The NSRI applauds the companies that have agreed to pursue NSRI targets, and we encourage all manufacturers, restaurants, supermarkets and other food companies to follow their example.
Au Bon Pain
Bertucci's Italian Restaurant
Black Bear European Style Deli
Boar's Head Provisions Co.
Butterball
Campbell Soup Company
Delhaize America
Dietz & Watson
FreshDirect
Furmano's
Goya Foods
Hain Celestial
Heinz
Ken's Foods
Kraft Foods
LiDestri Foods / Francesco Rinaldi
Mars Food US
McCain Foods
Premio
Red Gold, Inc.
Snyder's-Lance, Inc.
Starbucks Coffee Company
Subway®
Target Corporation
Unilever
Uno Chicago Grill
White Rose
View the full list of commitments and achievements (PDF) by NSRI committed companies. If you would like to learn more about how to participate in the NSRI, please email salt@health.nyc.gov.
News & Announcements
October 8, 2014: Read a letter (PDF) urging federal action on sodium to The Honorable Sylvia Burwell, Secretary, United States Department of Health & Human Services from 31 state and local health agencies and organizations.
June 24, 2014: Health Department and American Heart Association Bring Together 34 of The World's Leading Scientists to Affirm That Sodium Reduction Is Key to Reducing Cardiovascular Disease

February 11, 2013: Mayor Bloomberg, Deputy Mayor Gibbs and Health Commissioner Farley Announce Results of National Effort to Reduce Sodium in Pre-Packaged Foods

March 17, 2011: Health Department Announces New Company Commitments to National Salt Reduction Initiative; Sodium Study Confirms that New Yorkers Eat Too Much Salt
November 23, 2010: Health Department Announces New Company Commitments to the National Salt Reduction Initiative
April 26, 2010: Mayor Bloomberg, Deputy Mayor Gibbs and Health Commissioner Farley Announce First Companies to Commit to National Salt Reduction Initiative