Do you qualify to receive a FREE EBT terminal from the NYC Health Department?

Qualified vendors must:
   1. Have been vending for at least one year
   2. Have no outstanding violations
   3. Have a Social Security Number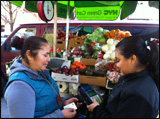 Free EBT Terminals for Green Cart Vendors
For a limited time, the New York City Department of Health and Mental Hygiene (DOHMH) will be supplying free wireless Electronic Benefit Transfer (EBT) terminals to Green Cart vendors. Accepting EBT helps to increase the number of customers who can buy fruits and vegetables at your Green Cart.

To apply for a free EBT terminal, Green Cart vendors must attend an informational meeting at the DOHMH. To attend, please RSVP to Peggy Leggat at (347) 396-4276 OR send an email to greencarts@health.nyc.gov that includes your first and last name, mailing address, phone number and the date of the meeting you plan to attend. Write "EBT TERMINAL MEETING RSVP" in the subject line. Times and location are listed below.



► Download and print a copy of the EBT Training flyer.
Location for EBT Training
NYC Department of Health and Mental Hygiene (DOHMH)
Gotham Center, 42-09 28th Street
Long Island City, Queens, NY 11101

Take the Q/N/7 train to Queensboro Plaza OR E/M/R train to Queens Plaza.
DOHMH is the large curved glass building on 28th Street
Meeting Dates for EBT Training
June
June 5
Room 9-13
10am-12pm
June 19
Room 9-13
10am-12pm
July
July 10
Room 9-13
10am-12pm
July 10
Room 9-13
10am-12pm
July 31
Room 9-13
10am-12pm
August
August 10
Room 9-13
10am-12pm
Last Updated May 28, 2013