DPHO Home | Public Health Policies | Local Research | Community-based Programs | Healthier Schools

Healthier Schools
Does your school promote healthy eating and physical activity? Apply for an NYC Excellence in School Wellness Award! Learn more about the award (PDF), and complete an application (PDF) by April 11, 2014.
Any questions? Email us at ESWA@health.nyc.gov.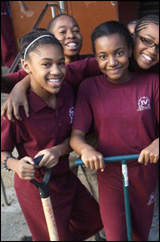 The District Public Health Offices (DPHOs) work with school communities to promote good health both inside and outside the classroom, focusing on increasing opportunities for physical activity and healthful eating.

The DPHOs help schools:
Organize school wellness teams comprised of school administrators,
PE teachers, classroom teachers, students and parents



Develop school wellness policies



Identify and work towards achieving wellness goals. Examples include conducting healthy fundraisers, implementing healthy snack policies, integrating fitness breaks into the classroom setting, and supporting staff and parent wellness programs.