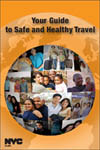 What is yellow fever?
Yellow fever is an acute infectious disease caused by an arbovirus. It is transmitted by Aedes or Haemagogus mosquitoes. The disease occurs in tropical and subtropical areas of the world. Yellow fever is not present in the United States.
Yellow fever in New York City
Yellow fever does not occur in NYC or the US, although persons traveling to endemic areas are at risk. For more information and guidance when traveling to endemic area please refer to the CDC's Yellow Fever website.

► See Your Guide to Safe and Healthy Travel (PDF)
Other languages: [En Español] [中文]
What can I do to reduce the presence of mosquitoes?
For more information on ways to reduce your risk for infection from Yellow fever or any other arbovirus by reducing the presence of mosquitos in their surroundings, follow these personal precautions against mosquitoes.
What can I do to prevent mosquito bites?
For more information on taking personal precautions to prevent mosquito bites, find out more information about insect repellent use and safety.

Last Updated: March 2011