Distribution of Oral Rabies Vaccine for Raccoons in Brooklyn and Queens
Rabies is a viral disease that infects the central nervous system of mammals. It is usually transmitted through the bite of an infected animal. It can be fatal in humans unless treatment (rabies shots) is administered soon after a bite or other exposure. The vast majority of rabies cases in the United States each year occur in wild animals such as raccoons, skunks, bats, and foxes. In New York City and New York State, animal rabies occurs primarily in raccoons, bats and skunks.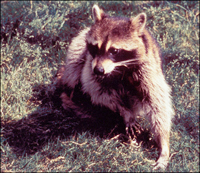 With the continuing identification of raccoons and other animals with rabies in all five boroughs of New York City, the Health Department reminds New Yorkers to avoid wild animals and to vaccinate their pets against rabies.
For more information on rabies, call 311.