Innovative Solutions from New York City
Non-communicable diseases and injuries are global health problems that need local solutions. New York City has a long history of leadership in public health. Just as New York City defeated communicable disease epidemics of the 19th century through environmental change, the City is addressing non-communicable diseases today by focusing on their underlying environmental causes, through actions such as requiring smoke-free workplaces, increasing access to healthy foods, building safer streets and creating infrastructure that supports physical activity.
 This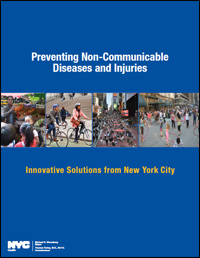 report describes these successful efforts. Many of these interventions have cost city government very little, and some have actually generated government revenue. As such, these local efforts may serve as useful models for other cities as they also address these modern health problems.
Download a copy of this report.
Other languages: [Español] [中文] [عربي/Arabic] [Français] [Русский]