Ongoing monitoring by state and city agencies show New York City's overall air quality has not been affected by Hurricane Sandy. Air quality in the communities hardest hit by the hurricane may be affected during recovery efforts by dust from cleanup, debris removal, traffic emissions and other factors.
What You Should Know -- Citywide
The New York State network of rooftop air monitors shows that the levels of fine particles (PM2.5) -- the pollutant most likely to be associated with combustion of fuels, dust from streets, and debris -- have been similar in areas impacted by the hurricane to those that were not. Since December 12th, 2012, New York State Department of Environmental Conservation has maintained additional monitors in neighborhoods affected by ongoing recovery operations. Air monitoring data from storm affected areas and routine monitoring is available at DEC's website.
The levels of PM2.5 across the city vary each day with changes in the weather. Since Hurricane Sandy, levels measured by routine monitoring have been typical for this time of year and have not exceeded the federal standard of 35 micrograms of particulates per cubic meter of air based on a 24 hour average, the level at which air quality health advisories are generally issued.
PM2.5 can irritate eyes, throat, and lungs and worsen lung and cardiovascular problems. The elderly, children, and those with chronic disease are more sensitive.
What You Should Know – Flooded Areas
The air quality in these areas may be affected by many activities related to recovery efforts. These factors include dust from the cleanup of homes, movement of debris, emissions from truck traffic and the use of outdoor temporary boilers and generators.
The New York City Department of Health routinely monitors air quality part of its surveillance program known as the New York City Community Air Survey (NYCCAS). NYCCAS monitors are mounted on light poles at more than 100 locations around the city during each season of the year to collect 'integrated' two-week air samples near street level for common air pollutants related to fuel combustion, which are important for public health. Samples are sent to laboratories for analysis with results typically available several weeks later.
The Health Department has reviewed available results for fine particle (PM2.5) concentrations for the four weeks immediately following Hurricane Sandy (between 10/31/20121 and 11/27/2012 ). Previously scheduled NYCCAS sampling during this period included 12 samples in or less than 1000 feet from areas inundated by the storm surge and an additional 22 samples collected elsewhere in the city. The NYCCAS locations monitored and the 10 New York State Department of Environmental Conservation (NYS DEC) rooftop monitors reporting daily PM2.5 data during this period are shown here.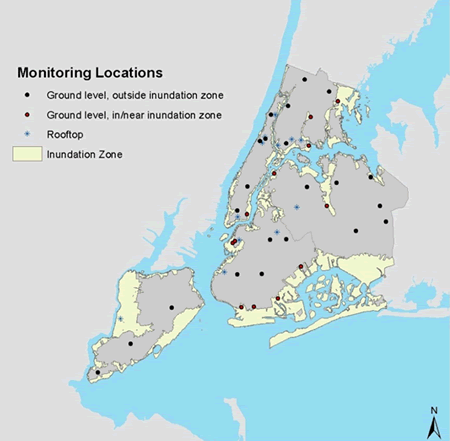 Because air pollution concentrations vary with seasonal and daily changes in the weather, the Health Department compared the two-week average data from street-level NYCCAS samples and rooftop NYS DEC monitoring during the four-week post storm period to data from the prior fall seasons (2009-2011). The results are shown here.
 1NYCCAS monitor deployment was delayed for safety reasons until after the storm had passed. NYS DEC data showed very low PM2.5 levels as expected during the storm and immediate post storm period because of rain, wind, and a reduction in emissions from power stations and traffic.
Figure 2: Two-week average PM2.5 levels in areas affected by Hurricane Sandy relative to street-level and rooftop measurements taken city-wide during the same time period and in prior fall seasons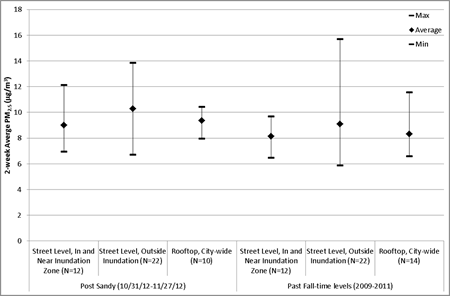 Click to enlarge
These data from NYCCAS street-level sites and from NYS DEC monitors showed concentrations similar to those expected based on data from past fall seasons. Average PM2.5 concentrations both before and after Sandy tend to be higher in midtown Manhattan and other areas with the greatest density of traffic and buildings compared to areas nearer the waterfront that were inundated by the storm surge.
To supplement this routine monitoring, from November 30 through December 28, the Health Department collected short term PM2.5 measurements with hand held monitors to locations closer to ongoing recovery operations where localized increases in PM2.5 may occur from demolition and debris movement, construction vehicles, temporary generators, and boilers in the Rockaways, Coney Island, and Midland Beach, Staten Island. Results are shown here.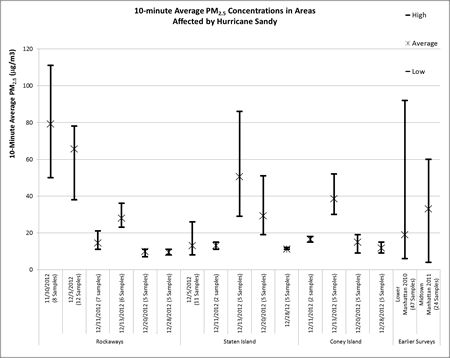 Click to enlarge
The chart shows the results for short-term (10 minute) sampling using hand-held devices in areas affected by large-scale debris removal. Shown alongside for comparison are results of 5-minute average levels from prior field surveys in areas of Lower Manhattan near outdoor grilling and in Midtown Manhattan in areas of high traffic density.
Air quality changes over time, so these values only present a snapshot of conditions at the time of sampling and are not comparable to the 24 hour standard for routine monitoring. At street level, New York City's amount of fine particle pollution (PM 2.5) normally varies across neighborhoods because of local sources like traffic, boilers in buildings, and power generation.
Beginning on December 11th, 2012 the Health Department began deploying 8 additional NYCCAS monitors in these same communities and will continue monitoring through the winter season. Results will be released when they become available.
The City's Department of Environmental Protection and the Health Department have also been looking at whether there are other contaminants in the debris that could become airborne. Extensive sampling for asbestos has been conducted and has not been detected in the vast majority of samples, and in the few where it was found, was at very low levels.
What the City is Doing
Dust levels can be controlled by frequent street cleaning and dust suppression during construction and waste disposal.
Temporary generators and boilers are necessary to provide power and heat while buildings are being repaired. Residents can call 311 to report concerns about equipment in their communities. The city's Department of Environmental Protection will inspect equipment if needed to ensure proper siting and operation.
Resources
For more information, call 311 or visit nyc.gov.