Jacques Jiha, Ph.D.
Finance Commissioner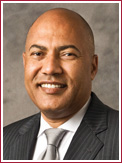 Jacques Jiha was appointed Commissioner of New York City's Department of Finance by Mayor Bill de Blasio on April 8, 2014. Prior to becoming Commissioner, Mr. Jiha was the Executive Vice President / Chief Operating Officer & Chief Financial Officer of Earl G. Graves, Ltd., a multi-media company with properties in print, digital media, television, events and the internet. A staunch advocate of public service, Mr. Jiha served on a number of government and not-for-profit boards. He was a board member of the Ronald McDonald House of New York, a board member of Public Health Solutions and a trustee of the Public Health Solutions Retirement Trust, a member of the Investment Advisory Committee of the New York Common Retirement Fund, and he was also the Secretary of the board of the New York State Dormitory Authority – one the largest issuers of municipal debt in the country on behalf of public and private universities and medical institutions, and the State of New York.
Previously, Mr. Jiha served as Deputy Comptroller for Pension Investment and Public Finance in the Office of the New York State Comptroller. As the state's chief investment officer, he managed the assets of the New York State Common Retirement Fund (CRF) – then the nation's second-largest pension fund valued at $120 billion. He also oversaw New York's College Savings Program, with assets of $2 billion, and the state's short-term investment pool of $5 billion. He was also in charge of all activities related to the issuance of New York State general obligation bonds, bond anticipation notes, tax and revenue anticipation notes, and certificates of participation. Mr. Jiha was also the Co-Executive Director of the New York State Local Government Assistance Corporation (LGAC) in charge of the sale of refunding bonds, the ratification of swap agreements, and the selection of financial advisors and underwriters. Prior thereto, Mr. Jiha was Nassau County Deputy Comptroller for Audits and Finances. He also worked for the New York City Office of the Comptroller in increasingly responsible positions: first as Chief Economist and later as Deputy Comptroller for Budget. Earlier, Mr. Jiha served as Executive Director of the New York State Legislative Tax Study Commission and as Principal Economist for the New York State Assembly Committee on Ways and Means. He holds a Ph.D. and a Master's degree in Economics from the New School for Social Research and a Bachelor's degree in Economics from Fordham University.