The New Manhattan Plan Examination Office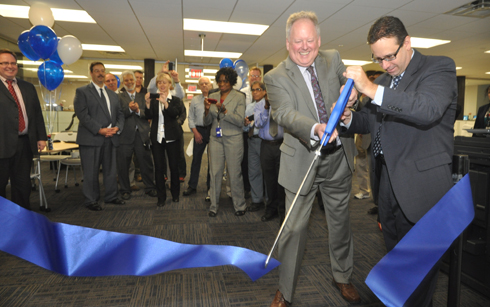 Commissioner LiMandri and Manhattan Borough Commissioner Martin Rebholz, RA, officially opened the new Manhattan Plan Examination office!
We now have more space for appointments, which will foster better collaboration with design professionals. Plus, we'll ultimately incorporate new technology into the review process.
---
New Assistant Commissioner Robert Fodora, Esq.
Robert Fodera, Esq., has been appointed as our new Assistant Commissioner of Administrative Policy and Enforcement and is overseeing our Administrative Enforcement, Licensing, Borough Enforcement, Signs and Padlocks and Special Enforcement Units. He will help develop new ways to strengthen our enforcement against property owners and contractors who are flouting the law, threatening New Yorkers' safety.
Assistant Commissioner Fodera joins us from the New York City Police Department, where he was the Executive Officer of the Civil Enforcement Unit, overseeing Nuisance Abatement proceedings and asset forfeiture investigations and actions, including enforcement against Driving While Intoxicated offenders. Plus, he's worked closely with Buildings during the past 17 years: AC Fodera has been closely involved in our MARCH (Multiple Agency Response to Community Hotspots) program as an attorney and an executive, helping make sure New York City's clubs and bars remain safe.
---
First Department Building Marshal Appointed
Salvatore Agostino has been appointed to serve as our Department's first Building Marshal, having risen through the ranks of the Office of Internal Audits and Discipline. Building Marshal Agostino will oversee various investigative and enforcement initiatives, pursue negligent property owners and coordinate the Agency's investigations of major cases against unlicensed contractors who performing illegal work. He will also be the primary enforcement liaison between the Department and the FDNY, NYPD, Department of Housing Preservation and Development, BSIU and the Department of Investigation.
Building Marshal Agostino earned his bachelor's degree from the State University of New York and his juris doctor from Brooklyn Law School.
Service Updates
Construction Fences and Sheds
Service Notice
General Overview
Requirement Summary
Local Law 47 of 2013
Panel Template (PDF)
3D Site Safety Plans
BIM Overview
Service Notice
NEW ― BIM Guidelines
NYC Buildings Revit Content
NYC Buildings AutoCAD Content
Licensing
Online Renewal Payments for Stationary Engineers + General Contractors
Category 1 Elevator Inspections
Filing Deadline Extended
Hub Self-Service: AHVs
Read More
AHV Overview
Enroll
Learn How
Benchmarking
Updated Information
Payment Refunds
Submitting Requests
---
Recent Bulletins
2013-010 clarifies zoning requirements for yoga studios.
2013-009 establishes acceptance criteria for attendant-operated automobile parking lifts.
---
New Rules
Construction Trades Course Requirements Effective 09.15.13
Retaining Wall Inspections, Penalties + Waivers Effective 07.24.13
Potentially Structurally Compromised Buildings Effective 07.24.13
---
Did You Know...?
Just published ― Mayor Bloomberg's A Stronger, More Resilient New York, a comprehensive plan to rebuild communities impacted by Hurricane Sandy and increase the resilience of infrastructure and buildings citywide. This report includes a long-term focus on preparing for and protecting against the impacts of climate change.