Mayor Bloomberg Amends NYC Plumbing Code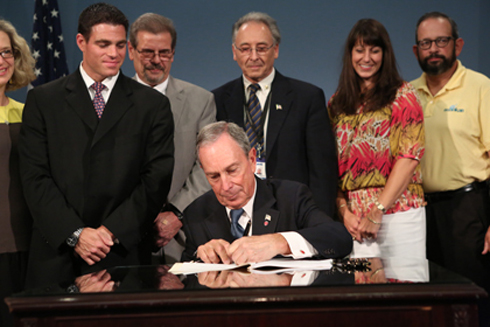 Mayor Michael R. Bloomberg signed new legislation to update the NYC Plumbing Code. This updated Code recognizes advances in technology and the evolution of materials, acknowledges sustainability and environmental concerns, helps address public health ― and eases bureaucracy to make it easier to build.
---
Borough Commissioners Rotated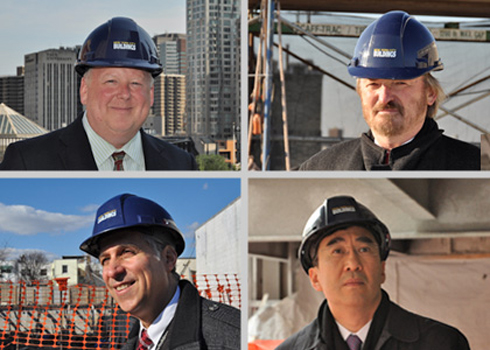 We've rotated our borough commissioners to increase efficiency, improve productivity and further standardize our operations. Martin Rebholz, RA, has been promoted to Manhattan Borough Commissioner. Ira Gluckman, RA, is now Brooklyn and Staten Island Borough Commissioner. Derek Lee, RA, has moved to our Queens borough office as Borough Commissioner, and Werner deFoe, RA, continues his service as Bronx Borough Commissioner.
Service Updates
New Plan Review Guide
Pilot Program
Benchmarking
Report Requirements
NYC Development Hub
Online Payments
Suspended Scaffolds
Notification Requirements
Builders Pavement Plans
Construction Division Inspections
Major Projects Program
Acceptance Criteria
NYC Plumbing Code
Updated Flush Standards
Cranes + Derricks
Mastclimber Forms
Elevator Reminders
Periodic Inspection Fees
New Electrical Code
Overview
ECB Violations
Service Notice
---
Buildings Bulletins
2012-010 addresses the use of flexible, double-wall, fuel-oil pipe systems.
2012-009 clarifies temporary sprinkler installation and compartmentation requirements for existing buildings undergoing interior alterations.
2012-008 addresses the permitted size of a cellar that is accessory to a residential use and used for non-dwelling purposes.
---
Did You Know...?
Since adding Quick Response codes to our construction permits last year, nearly 200,000 permits across the five boroughs have given New Yorkers instant access to job site information.