Safety Conference Presentations Now Online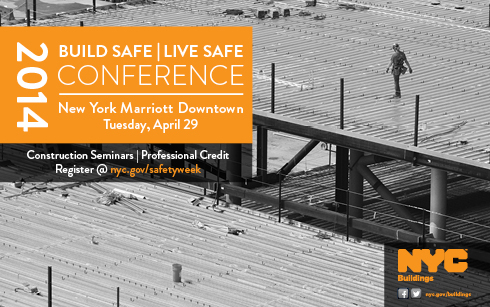 This year's sold-out Build Safe | Live Safe Conference featured 19 Department experts and eight construction safety presentations ― which are now online!
Department of Buildings' engineers, architects and construction specialists outlined recent safety trends, discussed ways to improve construction operations ― and highlighted key changes to the 2014 NYC Construction Codes, which go into effect on October 1.
---
Upcoming 2014 Code Trainings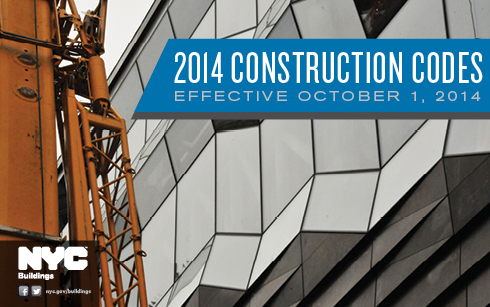 To assist with the transition to the 2014 NYC Construction Codes, our experts are leading seminars to outline the upcoming changes.
---
Prepare for Online Inspection Scheduling

Soon, you'll be able to schedule virtually all inspections online through our latest NYC Development Hub expansion: Hub Inspection Ready. We're launching this new system in the coming months. To facilitate a smooth transition, update your license and insurance information with the Department.
Learn More About Hub Inspection Ready
Service Updates
Boilers
Inspections Reports
Complete Drawings + Plan Guidelines
Expanded to All Offices
Filing Representatives
Training Course Extension
Construction
Raising or Moving a Building
Sprinklers + Standpipes
Structurally Compromised Buildings
Inspections + Reporting
Elevators
Inspections + Tests - UPDATED
---
Recent Bulletins
2014-06 Clarifies when to apply the 2008 Construction Codes or the 2014 Construction Codes to new buildings, alterations, partial demolitions and full demolitions.
2014-05 Video image smoke detection systems as an alternative system to the 2008 NYC Construction Codes
2014-04 Redundant smoke detector required by section MC 607.3.2.1, Item 1, may be omitted
2014-03 Inspecting, monitoring, and certifying modular units
2014-02 Corrugated polypropylene piping and fittings for storm sewer pipes (alternative to Code-prescribed polyethylene piping and fittings)
2014-01 Privately owned, mapped streets and zoning
---
Building Resiliency Legislation
Learn about upcoming seminars on recently enacted legislation.
---
Join Our Team!
We have new opportunities ― in various areas of expertise ― for architects, engineers and construction industry members!
More About a Career at Buildings
---
Did You Know...?
When you visit the Department's headquarters at 280 Broadway, notice the bronze clock on our building's southwest corner. The Sun ― a newspaper that was once a tenant in the building ― installed the large timepiece in 1930.