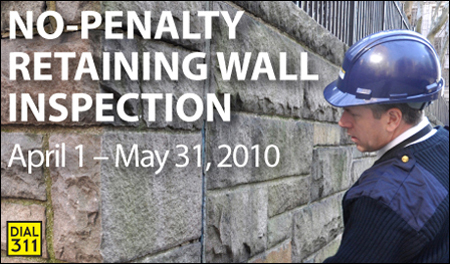 Street Trees
To increase street tree canopy and to improve air quality and storm water management, street trees must be planted at new building and major enlargement projects.

Applicants are required to indicate street trees on their building site plans and obtain a Tree Planting Permit from the Parks Department.
To reduce the likelihood that changes to tree pit size and tree species will be required after construction has been completed, the City is currently revising the filing process for street trees. As part of the changes, applicants will be required to submit their building site plan to the Parks Department before a construction permit from the Buildings Department can be issued. In addition, the site plan will have to be approved by the Parks Department and submitted to the Buildings Department before sign-off.
These changes will apply to New Building, Alteration 1 and Alteration 2 (enlargement) applications filed on or after May 3, 2010.
Keep reading Buildings News for more information.
Low Pressure Boiler Inspections
Beginning May 15, 2010, there are several new requirements that must be followed when filing annual low pressure boiler reports. These new requirements include:
Deadline to file complete reports 45 days after inspection
$50 penalty per month for late reports
$1,000 penalty for filing reports more than 12 months after inspection
Late filing for previous years will no longer be accepted and subject to full penalty amounts as outlined in Local Law 62 of 1991.
The 2010 Low Pressure Boiler Inspection Cycle is currently underway. It started November 16, 2009 and ends November 15, 2010. For inspections performed between November 16, 2009 and May 14, 2010, reports must be submitted by June 29, 2010. After June 29, the Department will not accept reports for inspections performed prior to May 15.



Fee & Penalty Chart
Service Updates
Concrete Safety Manager
The Department will begin accepting applications for
Concrete Safety Manager
registration on April 19. A registered Concrete Safety Manager will be required on major building construction projects involving 2,000 cubic yards or more of concrete by July 15, 2010.

How to Register
Hudson Yards Parking
Beginning April 14, the Department will require
approval from the City Planning Commission of proposed parking for New Building and Alteration 1 projects in the Hudson Yards, Clinton and Garment districts.

Learn more
Reminder: ACP7 Form
Asbestos abatement (ACP7) forms must be filed with the
Department of Environmental Protection and not the Buildings Department.
Earthwork Notification
Beginning April 15, contractors performing underpinning or
rock blasting as part of earthwork must include the approximate date these activities will commence when notifying the Department.


Learn more
Keep reading Buildings News for new information and updates.

HPD Green Owners' Forum
April 20, 2010
Want to learn more about the City's green initiatives? Come to a Green Owners' Forum hosted by the Department of Housing Preservation and Development to meet with representatives from City agencies and local non-profits. Buildings Department experts will be on hand to discuss ways to go green and new programs at the Department that encourage sustainable living. The forum will be held:
April 20, 2010
6:00-8:00pm
Liberation Diploma Plus High School
2865 West 19th Street
Brooklyn