Upcoming 2014 Code Trainings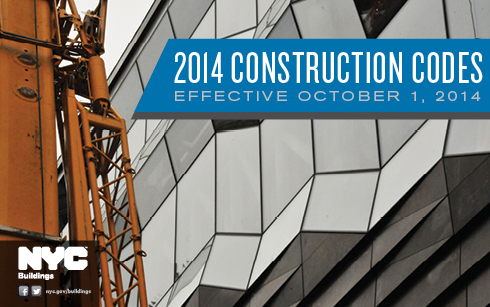 The 2014 NYC Construction Codes go into effect October 1, 2014.
In April, May and June, our experts will be leading seminars on the upcoming changes.
Learn About Code Training Programs
---
Construction Fatalities Lower in 2013
Acting Commissioner Thomas Fariello, RA, announced a 62.5 percent decrease in fatal construction-related accidents in New York City in 2013 compared to 2012.
---
Join Our Team!

We have new opportunities ― in various areas of expertise ― for architects, engineers and construction industry members!
Service Updates
Electrical Advisory Board
Expedited Review Process
Construction
Raising or Moving a Building
Sprinklers + Standpipes
Structurally Compromised Buildings
Inspections + Reporting
Elevators
Inspections + Tests - UPDATED
---
Recent Bulletins
2014-05 Video image smoke detection systems as an alternative system to the 2008 NYC Construction Codes
2014-04 Redundant smoke detector required by section MC 607.3.2.1, Item 1, may be omitted
2014-03 Inspecting, monitoring, and certifying modular units
2014-02 Corrugated polypropylene piping and fittings for storm sewer pipes (alternative to Code-prescribed polyethylene piping and fittings)
2014-01 Privately owned, mapped streets and zoning
---
Did You Know...?
The Department's headquarters at 280 Broadway was the site of America's first department store! Its gleaming facade led to its nickname: The Marble Palace.