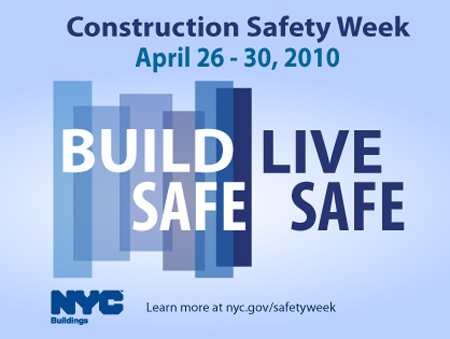 Architect Banned from Filing with DOB
| | |
| --- | --- |
| | On Thursday, March 4, DOB Commissioner LiMandri and DOI Commissioner Gill Hearn announced that Registered Architect Robert Scarano has been barred from filing all building documents with the Department of Buildings following a hearing at the Office of Administrative Trials and Hearings. |
On March 1, an Administrative Law Judge found that Mr. Scarano knowingly made false and misleading statements to the Department of Buildings on documents relating to buildings at 145 Snediker Avenue, 158 Freeman Street and 1037 Manhattan Avenue in Brooklyn. Based on the judge's recommendation, Commissioner LiMandri issued an order on March 3 prohibiting Mr. Scarano from submitting any document with the Department of Buildings.
Under Chapter 542 of the Laws of 2007 for New York State, the Department of Buildings has brought false filing cases against eight architects and engineers, including Mr. Scarano. Learn more.
DOB Architects Present at AIA Seminar
On Tuesday, March 9, Buildings Department experts participated in a seminar on the new NYC Construction Codes hosted by the American Institute of Architects Queens Chapter.

At the event, DOB Assistant Commissioner
for Technical Affairs and Code Development James P. Colgate, RA; Director of Code Development and Interpretation Keith Wen, RA; Chief Sustainability Officer Deborah Taylor, AIA, LEED AP; and Senior Architect John H. Lee, RA, LEED AP, discussed sustainability, accessibility and fire and life safety requirements in the 2008 NYC Construction Codes.
There were 130 attendees at the event which was held at Terrace on the Park, located at 52-11 111th Street in Flushing, NY.
Service Updates
Standpipe & Sprinklers
New requirements regarding cutting and capping of
Stalled Construction Sites
The Department is accepting applications for our Stalled
Sites Program. Owners who opt into the program must create in-depth site safety maintenance plans tailored to their sites' specific challenges. In exchange, their active work permits can be renewed for up to four years. View the
Service Notice
and Buildings Bulletin
2010-001
for more details.
New ELV3 Form

The Department has

updated

the ELV3 form to allow multiple
test results to be recorded on the same form. The updated ELV3 will be available online March 15, 2010.
Facade Safety
Cycle 7 of the Department's Facade Safety & Inspection
Program began February 21, 2010. Applicants must use the 2/10 version of the TR6 when filing their reports.
Learn more
.
Keep reading Buildings News for new information and updates.

HPD Owners' Forum
March 23
Buildings Department experts will be available at the Department of Housing Preservation and Development's Owners' Forum on Tuesday, March 23 in Williamsburg to answer any questions you may have regarding construction in your home or around your neighborhood. Details are below.
Date:
Tuesday, March 23, 2010
Location:
School Settlement Association
120 Jackson St
Brooklyn, NY 11211
Time:
6:00PM - 8:00PM
Se habla español.