Construction Safety Week ― Tickets Now Available!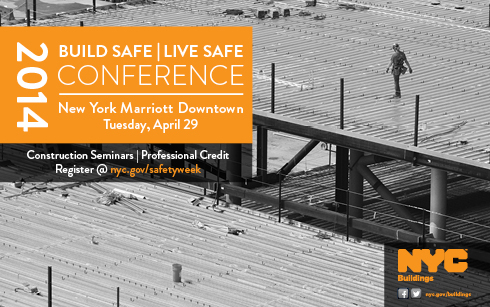 This year's Build Safe | Live Safe Conference will feature a broad overview of the 2014 NYC Construction Codes. Join us at this all-day event on Tuesday, April 29 at the New York Marriott Downtown in Lower Manhattan.
Department of Buildings' engineers, architects and construction experts will outline current safety trends and discuss ways to improve future construction operations in the City. Plus, professional education credits will be available.
---
Upcoming Trade Licensing Exams
Construction trades licensing exams are open, and the Department of Buildings is now accepting exam applications.
Rigger
Sign Hanger
High-Pressure Boiler Operating Engineer (Stationary Engineer)
Master Plumber
Master Fire
Suppression Piping Contractor
Electrician
Oil Burning Equipment Installer
Site Safety Manager
Elevator Agency Director
Elevator Agency Inspector
License Exam Applications + Details
---
Join Our Team!

We have new opportunities ― in various areas of expertise ― for architects, engineers and construction industry members!
More About a Career at Buildings
---
Online Inspection Scheduling Coming Soon
Soon, you'll be able to schedule virtually all inspections online through our latest NYC Development Hub expansion: Hub Inspection Ready. We're launching this new system in the coming months, and the modernized process will offer more precise scheduling and improve inspection tracking and notifications.
Learn More About Hub Inspection Ready
Service Updates
Electrical Advisory Board
Expedited Review Process
"Winterizing" Sites
Safety Guidelines
Sign up for Weather Advisories
Online Payments
eChecks + Credit Cards
Customer Service Tickets
Central Inspections Transactions
Licensing
Rigger/Sign Hanger Foreman
Elevators
Resolved Vios + BIS
Elevators: Inspection + Test Requirements
---
Recent Bulletins
2014-01 Privately owned, mapped streets and zoning
2014-02 Corrugated polypropylene piping and fittings for storm sewer pipes (alternative to Code-prescribed polyethylene piping and fittings)
2014-03 Inspecting, monitoring, and certifying modular units
---
Resiliency Legislation
Department experts will be speaking at upcoming events, highlighting requirements of recent resiliency legislation adopted after Hurricane Sandy.
AIA Brooklyn -
March 4, 6:00pm
AIA New York -
March 6, 8:30am
Summary of resiliency-related local laws that modify our Codes
---
Rules
Special Flood Areas §3606-04
Retaining Walls §103-09
Structurally Compromised Buildings §102-03
Course Providers §105-03
Energy Auditor + Retro-commissioning Agent Registration Fees §101-03
Boiler Inspections Rule Amendment §103-01
---
Did You Know...?
New York City has 12,750 miles of sidewalk ― flanked by more than 975,000 buildings and properties.