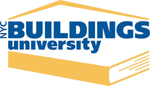 Buildings University provides intensive training for our technical experts, licensed professionals, support staff, administrators and management.
Training includes technical certifications for Inspectors of all disciplines, satisfaction of required continuing education credits for licensed professionals, professional development, career counseling and integrity training for all employees.
Our goal is to cultivate professional employees who are knowledgeable, creative and credible.