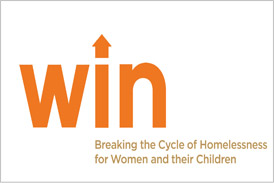 Meet Our Providers: Win – Breaking the Cycle of Homelessness for Women and their Children
Since opening its first family shelter in 1983, Win has devotedly served women and children throughout New York City. As one of the Department of Homeless Services' (DHS) valued non-profit partners, Win provides temporary, emergency shelter to families with children experiencing homelessness, with an emphasis on using a holistic approach to help households return to self-sufficiency.


 Win operates DHS-sponsored family shelters with 817 shelter units Citywide and is opening another DHS sponsored facility for 70 single adult women. Win also has 261 family supportive housing units sponsored by state and federal agencies, and in the Bronx, operates a women-only substance abuse clinic with on-site child care for mothers in recovery.
 As part of its contract with DHS, Win operates two adjacent shelters−the Win Family Residence at Liberty and the Win Family Residence at Junius−in the East New York neighborhood of Brooklyn. These two facilities alone provide temporary accommodations to 419 families and form a one-of-a-kind, state-of-the-art transitional housing complex for families in need.
 Win caseworkers and shelter staff work with each family to identify and address individual barriers to housing. By encouraging families to set specific goals and participate in on-site training and life skills programs, Win helps clients to secure employment and return to independent living in the community. Staff at Win shelters coordinates a variety of employment-based, educational, and health-related classes and programs−all designed to improve the lives of clients. Always striving to expand and evolve its services and offerings, Win has, over the years, embarked on collaborations with other non-profit and community organizations, including the United Way of New York City, the Robin Hood Foundation, and Kingsborough Community College.
In recent years, Win has become involved with DHS' homelessness prevention efforts, acting as a key player in the development and execution of the Housing Help Program−an anti-eviction effort targeting a high-risk zip code in the Bronx. Win currently manages eight shelters Citywide and is broadening its scope to serve single adult women in addition to families with children.
Win is a true New York City organization−one that believes in the potential of every family to attain a better life not just for the immediate future but for generations to come. To learn more about Win and its programs, please visit www.winnyc.org.